Being Social Online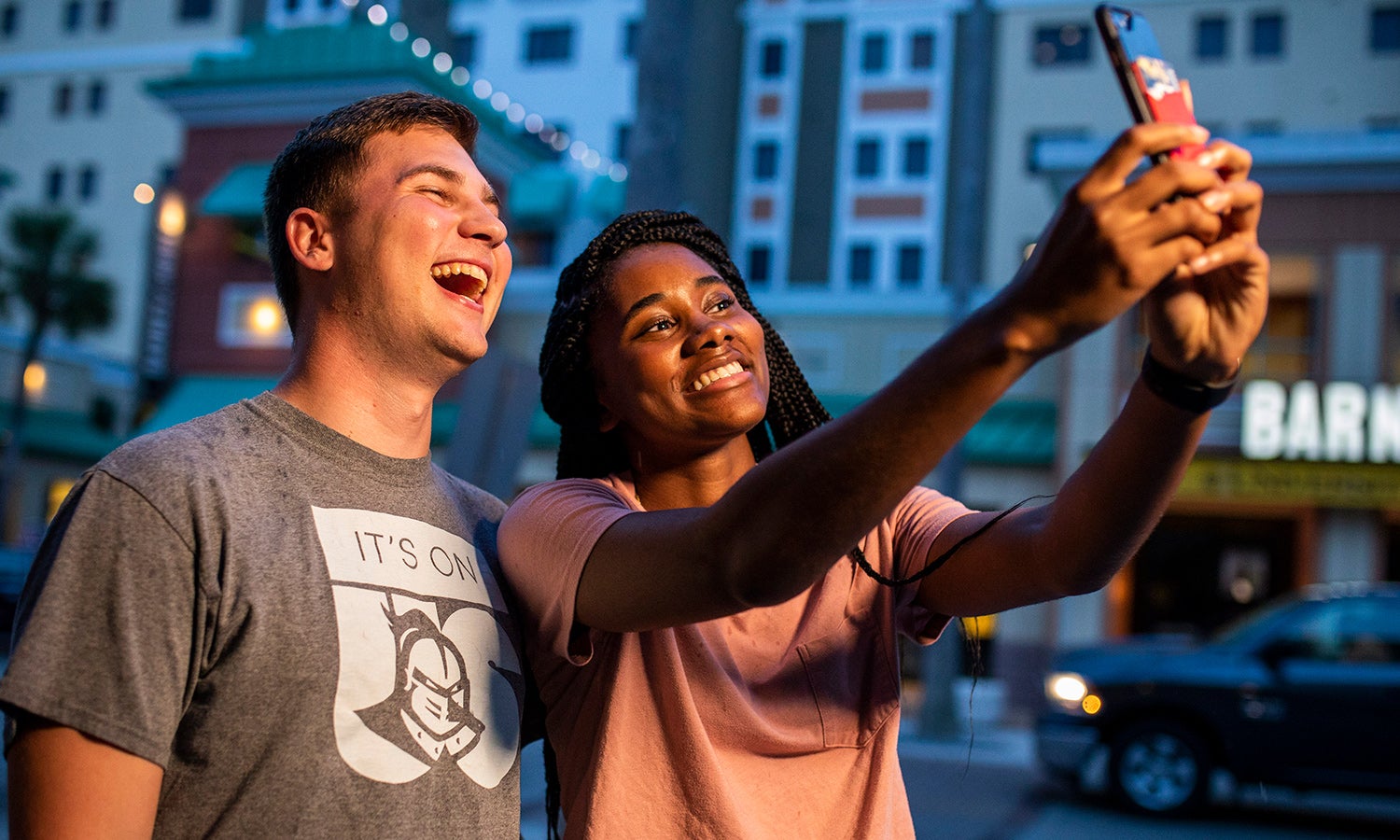 As an online student, sometimes it can feel like you aren't as connected to your university as others. But on-campus and online students alike share the same digital community on the web. It's just a matter of getting connected –– and thanks to social media it's easier than ever.
Here are some ways UCF Online students connect with their UCF peers:
Facebook
Facebook pages and groups are a great way to find fellow Knights and stay up to date about what's going on at UCF. We recommend following these pages and groups to begin with, then follow the pages that match your interests:
Instagram
Follow ucf.edu on Instagram for cool campus shots, photos from Knights living and traveling around the world, and the occasional cute pup pic. Through video series, highlights and story posts, you can find other students and UCF's social media ambassadors, who are always looking to meet fellow Knights or provide helpful insights.
You can also use the location tag for UCF's campus to see what's happening at the university and connect with other friends. Don't forget to use #UCFSocial to share your love for the Knights!
Twitter
Be sure to follow the account for UCF Online students to get involved and stay engaged. But don't stop there. Search for UCF on Twitter to easily find different accounts for university departments, colleges, staff, faculty and students. You should also follow UCF's official Twitter for updates, memes and to join the #UCFOnline conversation with fellow Knights.
Another lively account that unites the UCF community is UCF Knights, where you can cheer on our student-athletes and teams (and even join the #UCFTwitterMafia to defend your love of the Knights).
YouTube
UCF's YouTube is the place to find all university-related video content. From student vlogs that give you insight into the UCF experience to documentary-style videos that highlight unique Knights, you can really see what the university is like here. You can also view livestreams for events like Spirit Splash, Knights Got Talent and commencement.
LinkedIn
LinkedIn is a great place to professionally connect with members of the UCF community for networking, work opportunities and industry advice. Get connected by following UCF's official LinkedIn.
Also try searching for UCF college-, program- or major-specific pages, such as UCF Health Services Administration to find people who share your interests. And of course, connecting with your classmates can help you keep in touch with them after graduation.
Reddit
Follow the UCF subreddit page to find posts about the university. Learn about other students' course experiences, bond over hobbies, find or offer advice and more on the platform.
Follow UCF Hashtags
Stay up to date about what's happening around UCF and join the conversation by using #UCFSocial and #UCFOnline.