Ten Knights are the recipients of the U.S. National Science Foundation (NSF) Graduate Research Fellowship Program, where they receive financial support for their education and an annual stipend to support their research and career endeavors. It is one of the most prestigious awards for graduate students, with just about 16% of applicants awarded each year.
The NSF Graduate Research Fellowship Program recognizes and supports students who are pursuing full-time, research-based graduate degrees in science, technology, engineering or math, and who have demonstrated potential to be high-achieving scientists and engineers. Recipients are selected through a rigorous application process.
Another nine Knights are recognized with this year's Honorable Mention, a significant national academic achievement that connects recipients with additional resources throughout their academic journeys. These individuals include:
Michelle Bardales Cruz, biology graduate student
Madisyn Brooks, physics student
Angela Corrigan '19, biomedical sciences alum with minor in French
Danielle Costello, cellular biology student
Abigail Crowder, biology graduate student
Stephanie Gaspar, biology graduate student and environmental studies alum with a minor in health sciences
Jenna Palmisano, conservation biology student
Cianna Piercey '18, psychology alum
Julia Willison, physics doctoral student
With a total of 19 Knights recognized, this is one of the most successful years for UCF in the NSF Graduate Research Fellowship Program.
Meet the 10 recipients below.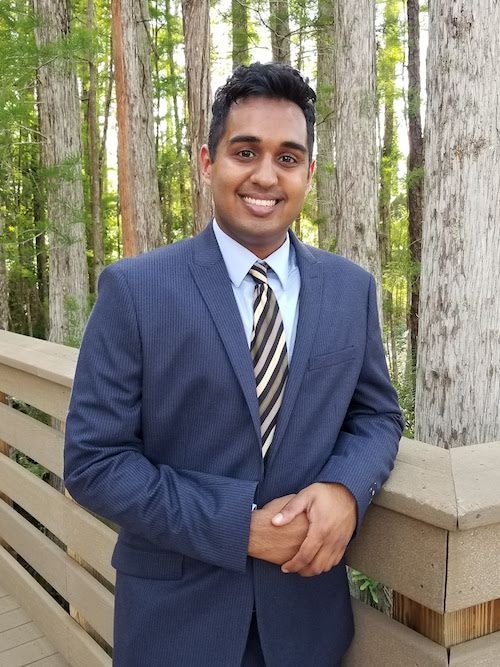 Rishi Basdeo '21
Undergraduate degree and institution: Bachelor's in mechanical engineering and biomedical sciences; UCF
Graduate degree and institution: Master's in mechanical engineering with a concentration in robotics; Carnegie Mellon University
Research focus and why: My Ph.D. will focus on developing a teleoperated catheter surgical platform with haptic feedback in collaboration with the University of Pittsburgh Medical Center (UPMC). Unlike other types of robotic platforms, this will be mainly used for endovascular surgeries, which are minimally invasive procedures for treating a wide range of cardiovascular conditions including aneurysms and arterial blockages. Surgeons access these sites using nested catheters (thin tubes) inserted through arteries in the leg, which are then manipulated to enable tools to reach areas of interest via the patient's circulatory system. By creating a teleoperated platform to complete these procedures, we can promote wider access to equitable healthcare, as experienced doctors can remotely operate in underserved communities at reduced time and financial costs to patients. By eliminating travel time as a factor in these treatments, it also will enable rapid intervention in emergency procedures and remote areas.
Career aspirations: I plan to work in research and development in robotics, with a continued focus on accessibility and healthcare. My goal is to contribute to the development of innovative robotics technologies that can be used in medical fields such as surgery and rehabilitation. I am passionate about leveraging robotics to enhance accessibility and am eager to see the impact it can have on the greater community.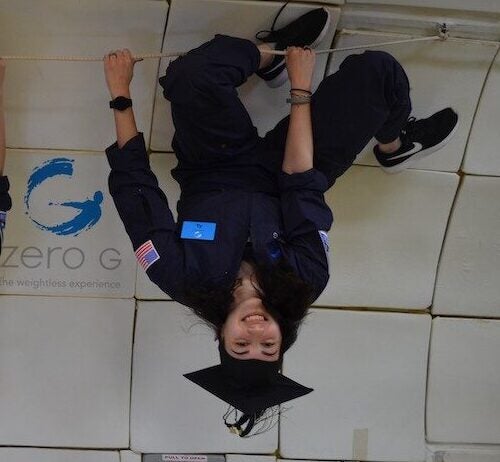 Taylor Peterson
Undergraduate degree and institution: Bachelor's in physics; Carthage College
Graduate degree and institution: Ph.D. in aerospace engineering; UCF
Research focus and why: As the aerospace industry is focusing more and more on the Artemis missions going to the moon and eventually Mars, there are many areas of research that are lacking critical data and understanding. One area involves propellant storage and transfer systems of super-cooled cryogenic fuels that behave differently in 1g versus microgravity. My research will focus on studying and tracking cryogenic fluid flows in these different gravity conditions and develop a technology to gauge the locations of boiling propellant in transfer processes.
Career aspirations: I hope to continue research after grad school that will help our Artemis generation safely get to the moon and eventually Mars. More specifically, I wish to continue my research with fluid behaviors in microgravity.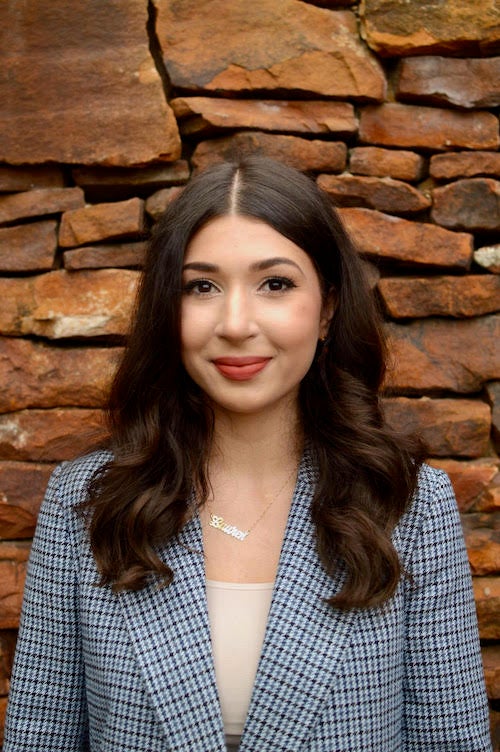 Lauren Horde '20
Undergraduate degree and institution: Bachelor's in psychology; UCF
Graduate degree and institution: Ph.D. in systems engineering; University of Virginia
Research focus and why: Because the tactile modality is increasingly being used within human-machine interfaces, it is important that we understand the human limitations of processing tactile cues. The phenomenon of change blindness, or the surprising failure to detect changes in the presence of distractions, has been shown to impact the tactile modality. However, tactile change blindness has yet to be studied at the neurological level. The brain's response to stimuli can be visualized using electroencephalography (EEG), which provides us with an objective record of electrical activity within the brain. By using EEG, neural responses specific to an event can be captured and used to draw conclusions about underlying cognitive processes — like when change blindness may occur during information processing stages.
My research will identify if there are neural signatures specific to detected and undetected changes in tactile stimuli and develop a neurofeedback training system to improve rates of tactile change detection. The outcomes of this work will directly inform tactile and multimodal display design and provide valuable time-locked data on tactile change detection that may be applied to disciplines across engineering, psychology and neuroscience."
Career aspirations: After completing my doctorate degree, I aspire to enter into the public or private sector as a research scientist.
Dustin Howard '21
Undergraduate degree and institution: Bachelor's in biology; UCF
Graduate degree and institution: Master's in cellular and molecular biology; George Washington University
Research focus and why: I'll be studying Xenopus laevis as a model to explore amphibian immunology. Specifically, I will investigate the evolutionarily converged and diverged roles of innate immune cells in amphibian physiology and antimicrobial defenses. Amphibian populations are on the decline due to the Bd chytrid fungus and understanding amphibian defenses is pivotal in furthering conservation efforts.
Career aspirations: I aspire to join academia as a biological immunologist and further our understanding of the evolutionary history of innate and adaptive immunity.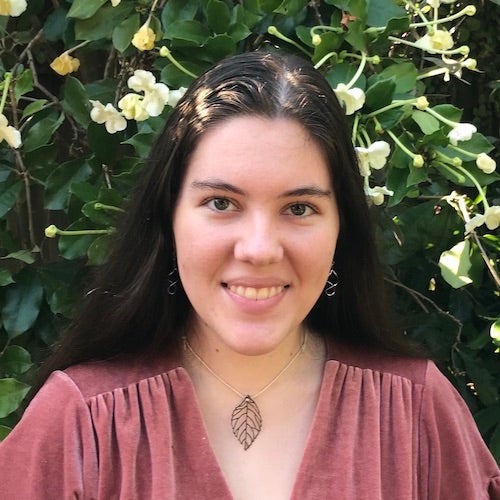 Laila Johnston
Undergraduate degree and institution: Bachelor's in mathematics with minors in computer science and philosophy; UCF
Graduate degree and institution: Ph.D. in cognitive science; Brown University
Research focus and why: I am interested in conducting research at the intersection of cognitive science, computer science, mathematics and philosophy. I intend to research how humans think and reason about the world through investigating the computational mechanisms of human question-asking. How can we create computational models that form questions as flexibly and easily as humans do?
As artificial intelligence (AI) increasingly becomes part of human life, it is important that we trust these technologies and can seek formal interpretable explanations when these technologies produce undesired output. Understanding how humans ask questions, why they ask certain questions over others and how these processes can be represented computationally will help build AI models that know when its model of the world is incomplete and how to update it.
Career aspirations: I intend to become a professor and start a research lab with the goal of discovering uniform, formal principles that underlie how the human mind forms new thoughts and concepts. I also hope to lead a research program that creates a space where other young scientists, no matter their background, can feel encouraged and supported to fulfill their research and Ph.D. aspirations.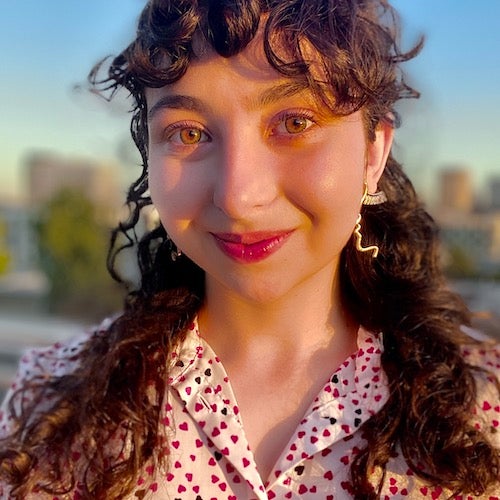 Annabelle Levin '21
Undergraduate degree and institution: Bachelor's in biology; UCF
Graduate degree and institution: Ph.D. in pathobiology; University of Washington
Research focus and why: I will study global health issues within viral, bacterial and parasitic diseases by investigating their underlying mechanisms. I am particularly interested in viruses that directly impact women, such as Zika, HPV and perinatal HIV transmission. My research interests are host-pathogen interactions, molecular biology, immunology and evolutionary biology.
Career aspirations: I aspire to study host-pathogen interactions, give back to other women in
STEM whenever possible and support my family in Brazil. The mystery of how viruses manipulate our machinery captivates me and motivates me to help answer questions about how they operate.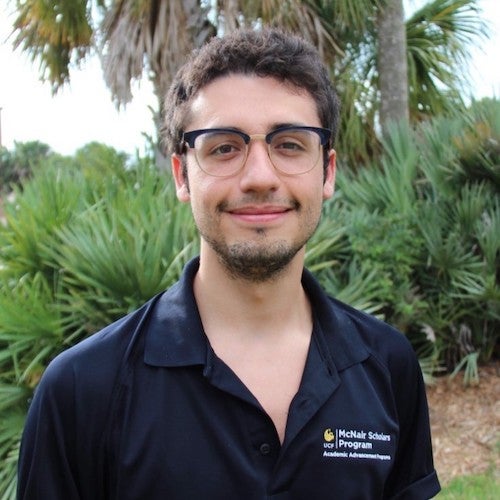 Samuel Naranjo Rincon
Undergraduate degree and institution: Bachelor's in psychology, neuroscience track; UCF
Graduate degree and institution:Ph.D. in computational and data sciences; Washington University
Please explain what you intend to research and why:I intend to study how the brain's architecture differs across humans and how this difference may be contributing to stagnant mental health outcomes. Additionally, I intend to research computational methods to model and arepresent the brain in ways that may help us understand its function. We need to study its larger architecture to understand bigger questions like cognition, thinking, personality and so on. In summary, I want to study network neuroscience and computational neuroscience to model the brain appropriately based on what questions I am asking. All of this is in hopes of understanding the brain such that people with mental health issues like schizophrenia or depression can get appropriate diagnoses or treatment based on their actual neural architecture/function.
Career aspirations: I want to be a professor with my own lab. I've even thought of the name already: The CORNER lab, meaning "Computational and ORganizational NEuroscience Research" lab. My second last name, "Rincon," translates to "corner" in English. What's also important to me is to give back to my community. I want to be actively involved in helping underrepresented groups enter academia, like the McNair program at UCF has done for me.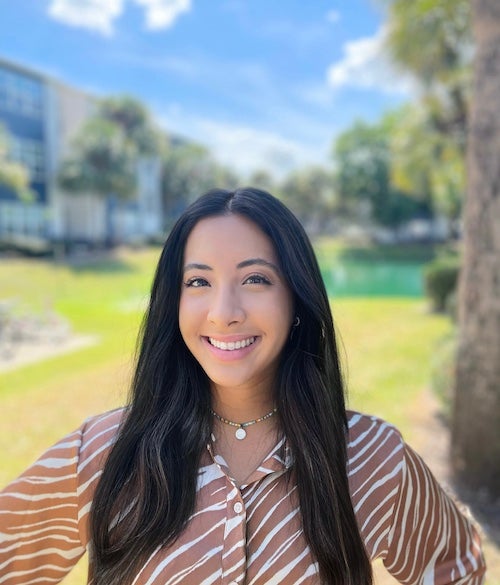 Jeena Prasertlum
Undergraduate degree and institution: Bachelor's in marine sciences; University of Florida
Graduate degree and institution: Master's in biology; UCF
Research focus and why: I intend to research the population dynamics of juvenile green sea turtles along the east coast of Florida. I want to understand how different factors may contribute to how juvenile green turtles are distributed along different nearshore habitats in Florida. This research is extremely important given that the green sea turtle is an endangered species. Better understanding how sea turtles interact with their environment is crucial when creating effective management solutions to better conserve them.
Career aspirations: My goal after graduate school is to continue studying the ecology of sea turtles and emphasize scientific outreach in K-12 and underserved communities. Participating in science outreach events, I've seen children's eyes light up at the opportunity of being a "researcher for the day." Moments like this remind me why everyone should have opportunities that instill passion and excitement in the way science can. Being a part of a minority group myself, I am very passionate about scientific education and making sure that underrepresented communities have equal opportunities to science that inspires. I want to continue contributing to sea turtle conservation and research while also sharing my knowledge with the next generation of scientists.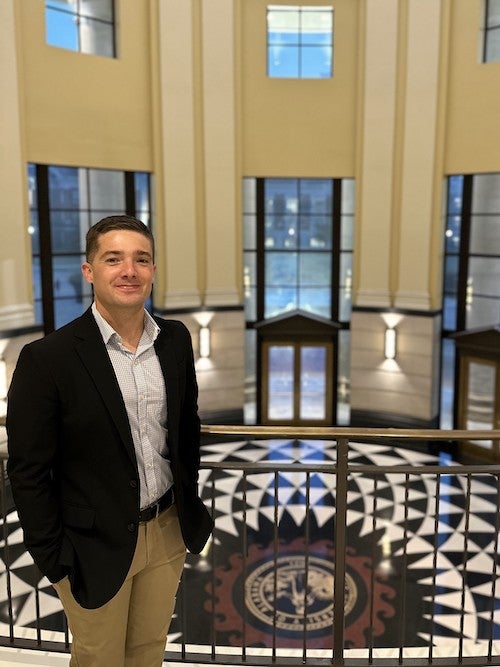 David Yannick '21

Undergraduate degree and institution: Bachelor's in environmental studies; UCF
Graduate degree and institution: Master's in biology; University of Alabama
Research focus and why: My research involves studying the carbon dynamics of coastal wetlands in the southeast region of the Florida Everglades. Altered hydrology has increased susceptibility to saltwater intrusion and natural disturbances like hurricanes. This can lead to several issues such as shifts in soil respiration, peat collapse, plant mortality and the establishment of salt-tolerant vegetation, like mangroves. These events can lead to a transitional state where we see a change in dominant vegetation and eventually a different ecosystem. I seek to understand how carbon is being stored or released from these wetlands during this transitional phase, as we have observed a departure from herbaceous marsh and the beginnings of a mangrove forest. This is important as wetlands offer invaluable services, from providing crucial habitats to storing carbon. I have always been passionate about the outdoors and educating others on the significance of Florida's endemic habitats.
Career aspirations: My goal is to be a professor and lead a lab, mentor future scientists and continue research along the intersection of biogeochemistry and biometeorology.

Janice Zou
Undergraduate degree and institution: Bachelor's in mechanical engineering; UCF
Graduate degree and institution: TBD
Research focus and why: I am interested in providing high-fidelity insight into rocket-nozzle plumes in space through the development of a computational fluid dynamics (CFD) model. When reaction control system (RCS) thrusters fire in space to help space vehicles adjust for scenarios like docking onto the ISS (International Space Station), the plumes they create expand a lot in the vacuum environment. Since it is also cold in space, any of the fuel from the thrusters that are not burnt upon exiting the nozzle are frozen. These frozen fuel particles can end up impinging on nearby surfaces and eroding them — reducing the lifetime of the surface. By developing a model that can simulate such scenarios, we can better understand the behaviors of plumes and the fuel particles in space to better design space vehicles now and in the future.
Career aspirations: From early on, I knew I wanted to work in a research environment where we're pushing the boundaries of our current understanding of the world. I have a passion for the space industry and aim to help pave the way for the development of more efficient space vehicles for future deep space missions.
Students interested in applying for NSF Graduate Research Fellowships or other major national awards should contact the Office of Prestigious Awards at opa@ucf.edu.