While studying abroad is often a goal for most college students, some may never have the opportunity to do so due to financial reasons.
But thanks to the Benjamin A. Gilman International Scholarship program, 28 UCF students — including one who earned two awards — have received financial assistance to take advantage of experiences abroad through April 2023. The number of honorees for the 2021-22 academic year sets a university record. Each recipient is awarded up to $5,000 to fund their international studies.
Established in 2001, the Gilman scholarship provides undergraduate students the opportunity to study or intern abroad and gain valuable academic and professional experience to enhance their future careers. Past Gilman Scholars have studied or interned in 76 different countries, and nearly half have studied a language in addition to their work abroad. This program targets students who otherwise may not have the resources to intern or study in a different country, thus ensuring that students from many different backgrounds have the chance to contribute to both the United States' and foreign countries' innovation and prosperity. Gilman Scholarships are awarded during two cycles each academic year, and UCF's full list of honorees for 2021-22 can be found here (October 2021 honorees) and here (March 2022 honorees).
Applications for the first cycle of 2022-23 Gilman Scholarships — which include study abroad programs running Dec. 1, 2022-Oct. 31, 2023 — are due Oct. 6 at 11:59 p.m. (PST).
"The Gilman Scholarship allows students with the drive and passion for studying abroad the opportunity to do so," says Christina Hussey, coordinator in the Office of Prestigious Awards. "I am very excited for the opportunities these recipients will explore and wish them the best of luck in their abroad adventures."
In 2021, the U.S. Department of State awarded nearly $15,000,000 to students across the country.
Keep reading to get to know just a few of the record-setting 28 UCF students awarded this scholarship.
For Allisa Castro, the Gilman Scholarship has provided an opportunity to bring her studies to life. An anthropology major in the Burnett Honors College, Castro spent the Summer 2022 semester in Italy, completing two classes related to her major. The program she participated in was a partnership with Academics Program International, an organization that helps students study and intern in foreign countries. Much of Castro's studies in Italy focused on 2,500-year-old artifacts that have recently been unearthed at the Hellenistic necropolis of Bosco della Riserva.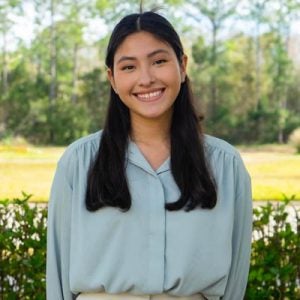 Though she enjoyed her time in Italy, Castro says she is also looking forward to her follow-up service project — a requirement that allows recipients to reflect on their experiences abroad. Upon graduating in Spring 2024, Castro plans to pursue a career in consumer anthropology and multicultural marketing, with the eventual goal of completing a graduate program in sociology. Though the application process was rigorous, she asserts that all the hard work was worth it, as it made her dream of studying in Italy a reality.
The Gilman Scholarship has allowed Burnett Honors Scholar and nursing major Brittney Perry to be one step closer to her goal of traveling to Japan. Ever since sixth grade, she has dreamed of continuing her study of Japanese while being immersed in the entertainment and culture that make up the country. Though her plan to take classes at J.F. Oberlin University in Tokyo this summer was not possible due to COVID-19 regulations, Perry plans to apply again next summer.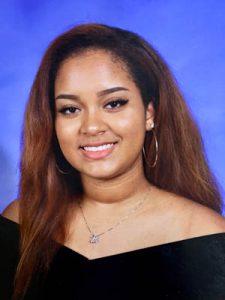 Perry emphasizes that her application would not have been the success it was without the help of UCF Abroad's staff, specifically Associate Director Oliver McSurley and Administrative Coordinator James Ehmer. She encourages other students to seek help if they're interested in applying. Allowing others to read and revise one's application can provide insight and advice that otherwise would be difficult to come by. Though her application required several hours of revisions, Perry believes that it was all worth it in the end.
"The Gilman Scholarship has allowed me to pursue the goal that I set for myself eight years ago, and I know it wouldn't have been possible for me to go to Japan without it," she says. "To any future Gilman applicants reading this right now, I believe in you."
As he goes into his final year at UCF, entertainment management major DiGray Olcima says he's excitedly looking ahead to his future. In August, he'll travel to San José, Costa Rica, to partake in the Selina Hotels Program. While abroad, he'll get the chance to experience the culture and lifestyle of Costa Rica while developing his knowledge of international studies. In an effort to help minimize the linguistic barriers that are prominent in North America, Olcima also plans to study Spanish during his time in Costa Rica.
A student in both the Burnett Honors College and the Rosen College of Hospitality Management, Olcima first learned of the Gilman Scholarship from Rosen's internship coordinators, Gisele Canova and Jessica Wicke. After graduation, Olcima aspires to be an internationally adept musical artist, working in the entertainment industry in spaces that lack diversity and inclusion. The Gilman Scholarship is a chance for Olicima and other students to travel outside of their comfort zones and thus is a reminder of Olcima's favorite quote: "A life lived in fear is a life half lived."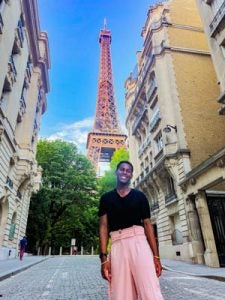 Jesse Rigsby has been learning French since he was in sixth grade. Thanks to the Gilman Scholarship, he's been able to put his French into practice while attending classes at Sorbonne University in Paris. Rigsby thanks the UCF Study Abroad office, McSurley, and associate lecturer Elizabeth Giltner for informing him of the Gilman Scholarship and assisting him throughout the application process.
As a music education major in the Burnett Honors College who's minoring in mathematics and French, Rigsby understands the significance of being a well-rounded student. With this in mind, he has words of wisdom for students who are interested in studying in a different country.
"Don't limit yourself," he says. "Be diligent and purposeful. Instead of being short-sighted, aim to visualize a worldwide view of how our actions in the present create ripples in the moment, but waves in the future for us and everyone around us."
When he graduates in Spring 2024, Rigsby plans to either go into teaching or go straight to graduate school. Whichever path he eventually chooses, he says he is looking forward to using the knowledge gained during his time abroad to guide him forward in his career.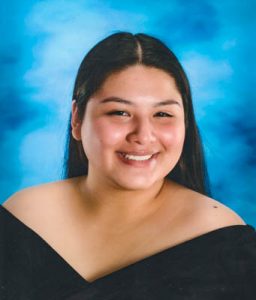 Event management major Ayani Altamirano first learned of the Gilman Scholarship from UCF Abroad's website. Altamirano will complete the Hospitality Exchange Program at Sejong University in South Korea during the Spring 2023 semester. The classes she will be taking align with her UCF course of study, and after talking to students who have traveled to South Korea, she says she is confident this is the right place for her to be.
Altamirano also recognizes that the benefits of the Gilman Scholarship go far beyond the monetary reward. Though she remarks that this award has taken a significant burden off her shoulders, she's also thankful for the scholarship's community and networking system. Altamirano is currently earning her teaching English as a foreign language (TEFL) certificate, and intends to utilize this in her career after graduation in 2024. She would also like to work abroad in the hospitality industry while still making time for personal travel.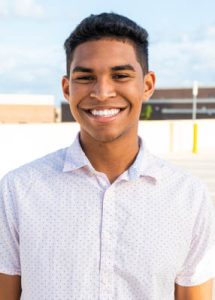 This summer, Sanju Ebanks will participate in IPAI Germany, a three-week program at the International Performing Arts Institute (IPAI). While in Germany, Ebanks will explore different genres of singing while experiencing German culture and training to be a more versatile artist. As a music performance major, Ebanks mainly studies classical singing and enjoys performing in German. He also has taken two semesters of German Language and Civilization, which makes IPAI Germany the perfect program for him.
Ebanks states that both McSurley and Professor of Music Joe Gennaro provided tremendous assistance to him throughout the application process and the subsequent credit arrangement required to ensure that Ebanks' program was eligible for the scholarship. As for his plans for the future, Ebanks is not in any rush. He will graduate in Spring 2023, but for now, he plans to "focus on preparing for this study abroad trip and making the most of it — to take every bit of information and experience I can and make the most of my last year."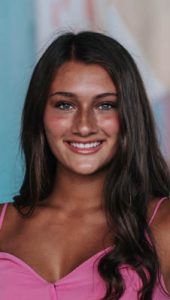 After hearing about this scholarship from her study abroad advisor, psychology major Samarah Alam knew she had to apply. Alam will graduate in 2025 and attend medical school, so her study abroad trip will provide an experience that will be extremely beneficial for her future career. Beginning in April of next year, she'll spend five weeks in Athens, Greece, interning in a hospital and shadowing doctors in several different specialties.
Alam says she chose this program because it will allow her to spend 40 hours a week alongside doctors, which will give her insight into which field of medicine she's most interested in pursuing in medical school. She's also looking forward to developing her communication skills and gaining a deeper understanding of cultural differences in medical treatment approaches.
"The Gilman Scholarship allows me to follow my passion and gain valuable experience in the medical field while exploring Greece's culture, which I would not be able to do without this assistance," Alam says.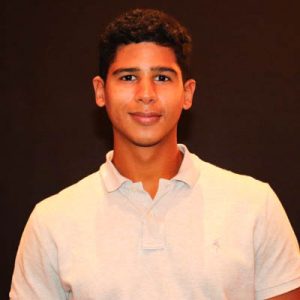 Pre-integrated business major Elliott De La Rosa has briefly studied in Berlin and Barcelona, but the Gilman Scholarship has provided him the opportunity to study abroad for an entire semester for the first time. De La Rosa will attend classes at the University of Seoul in South Korea during the Spring 2023 semester. Although his first choice of China was unavailable due to COVID-19 regulations, South Korea still has everything he's looking for: an introduction to Asian culture, a fast-paced city atmosphere, and a hub for business exploration. This trip will also help him work towards his goal of one day serving as a foreign diplomat for the U.S. Embassy in either China or South Korea.
When describing his decision to apply for the Gilman Scholarship, De La Rosa reflects on a memory from his first-year orientation, during which a graduating senior stated his biggest regret in college: not studying abroad. Now, as a study abroad advisor in the College of Business, De La Rosa strives to ensure that other students don't experience this same regret.
"College flies by faster than you think," De La Rosa. "You have all of your life to work at a job, but you only have now to study abroad as a college student. Don't miss this opportunity."
McSurley highlights the importance of this prestigious award.
"The Benjamin A. Gilman International Scholarship is an incredible opportunity for UCF students planning to study abroad," McSurley says, "This award is specifically for students with high financial need, and its purpose is to foster increased accessibility for students of diverse backgrounds seeking international experiences."
Those interested in learning more about study abroad opportunities are encouraged to reach out to UCF Abroad at StudyAbroad@ucf.edu to learn more. If interested in other scholarship opportunities, please reach out to the Office of Prestigious Awards at OPA@ucf.edu.