Criminal Justice Skills You'll Walk Away With After Earning a Master's in Criminal Justice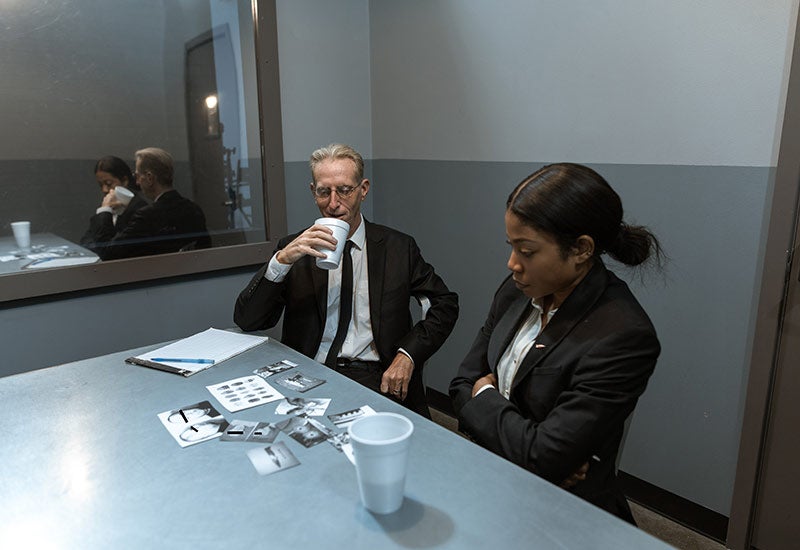 For those who are passionate about pursuing justice and making their communities safer and more equitable, a criminal justice career may be a great path to take. Whether working as researchers or police investigators, criminal justice professionals have the privilege of combining technical, legal, scientific and creative skills to help prevent crimes and build stronger communities.
Particularly for individuals who are currently working full-time or who require flexibility in their studies, a good way to begin the pursuit of a career in criminal justice is with an online degree program, specifically one focused on criminal justice or a related field. A formal education can not only provide exposure to different law enforcement trends, technologies and practices, but also help hone the skills required for long-term professional success. Explore some of the foundational criminal justice skills that may be developed in a master's degree program below.
The Benefits of Obtaining a Master's in Criminal Justice
It's important to understand the value of pursuing a master's degree in criminal justice. The right educational background can not only lead to career advancement opportunities, but also empower individuals to enact positive change in their communities.
Career Advancement
Earning an advanced degree and developing the requisite criminal justice skills can lead to opportunities for additional responsibility — and potentially higher salary levels — in major law enforcement agencies, including the FBI and the U.S. Marshals Service. Although neither agency requires a master's degree, more advanced education can offer a competitive advantage over other job applicants. Some of the more advanced positions include those that have leadership responsibilities with teams of agents. Additionally, more science-based roles, such as a researcher, may require advanced degrees in specific technical fields.
Making a Change
By ascending to positions of greater responsibility and authority, criminal justice professionals may create opportunities to shape policies or enact real change for their communities or for marginalized groups. For example, rising through a local police department's ranks may lead to opportunities to vary how the community is policed, including potential shifts in how resources and staff are allocated. Earning a master's degree can be an important step toward gaining influence to make a real-world difference.
Key Skills Developed through a Master's Degree
Several invaluable criminal justice skills may be developed during a master's degree program, such as the University of Central Florida's Online Master of Science in Criminal Justice program. The following list includes some of those skills:
Research Skills
Effective law enforcement depends on sharp fact-finding and observational skills. This may mean reviewing old case files, researching local crime trends or evaluating data from forensic professionals. Knowing how to conduct research can be essential for capturing criminals or simply for building a more robust legal case against them.
Analytical Skills
Criminal justice professionals also need to have keen analytical capabilities. For example, forensic investigators must carefully scrutinize a crime scene and make correct inferences. Investigators also need to know how to analyze data and deduce meaningful trends and conclusions.
Communication Skills
Both written and oral communication skills are essential in criminal justice. For example, investigators often need to convey their findings to prosecutors and other attorneys, and, in some cases, they may be called upon to serve as expert witnesses in court, where clarity is critical.
Technical Proficiency
Criminal justice professionals increasingly depend on computers and technology to help them access and synthesize case data and local criminal trends. In pursuing master's degrees, individuals will become highly adept at using technology to the best of their advantage when solving complex challenges.
Attention to Detail
When working a criminal case, no detail is too small or insignificant. By pursuing advanced degrees, criminal justice professionals can train their minds to collect all the information needed to draw sensible conclusions about criminal cases.
Trends in Criminal Justice
An important reason to emphasize criminal justice skill formation is that the field is rapidly changing. Multiple trends and legal shifts have impacted the criminal justice system in significant ways; these trends present both challenges and opportunities that those who have developed strong criminal justice skills will be best positioned to meet. The following include several areas of criminal justice that have seen significant change in recent years:
Cannabis Laws
Cannabis laws are changing at both the state and federal levels, leading to major shifts in how drug cases are pursued and prosecuted. Those with bedrock criminal justice skills, as well as high levels of law enforcement experience, are best positioned to navigate the evolution of legislation regulating marijuana possession and sales.
Police Reform
Calls for criminal justice reform, in particular racial disparity reform, may provide meaningful opportunities for skilled professionals to advocate for change. Those with experience in the police system may be some of the most valuable voices in proposing reforms to practices like no-knock warrants and de-escalation training.
Cybercrime
Cybercrime is an increasingly major focus among law enforcement professionals, and those who have the right research, analytical and computer skills will be poised to offer real value. These law enforcement professionals may be on the front-line combating malfeasance from hackers, ransomware purveyors and other cyber scammers.
Learn Important Criminal Justice Skills
Those who seek success in the criminal justice field will benefit from a master's degree in Criminal Justice, which may open up new opportunities for career advancement and enhancement. Explore UCF's Online Master of Science in Criminal Justice program today and find out more about how this program helps strengthen their skills and move their careers forward in the growing field of criminal justice.