Program at a Glance
Program

Minor

College(s)

Department(s)

Dean's Office ENGR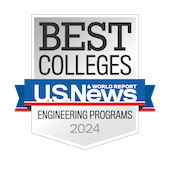 The Bioengineering minor prepares engineering and computer science students to pursue graduate academic and professional careers serving a wide range of the medical arena in research and development. Candidates completing this minor will also satisfy course admissions requirements for the UCF Medical School and other medical schools in the US. Engineering and computer science students interested in pursuing an MD degree at UCF or elsewhere are strongly encouraged to seek further advisement from the Office of Pre-Health and Pre-Law Advising. The minor constitutes up to: (a) for the engineering track 21 hours of coursework over the requirements for a bachelor of science degree in an engineering discipline at UCF, and (b) a minimum 17 hours of coursework over the requirements for a bachelors of science degree in computer science at UCF.
Minor Admission Requirements
Well-qualified students in the College of Engineering & Computer Science or College of Optics and Photonics with a cumulative UCF GPA of 3.0 or better are welcome to enter the minor. In order to remain in the program, students must maintain a UCF Undergraduate GPA 3.0.
Minor Requirements
Prerequisite Courses
---
University of Central Florida Colleges