Florida Tourism's Impact on Local Businesses: History, Statistics & Resources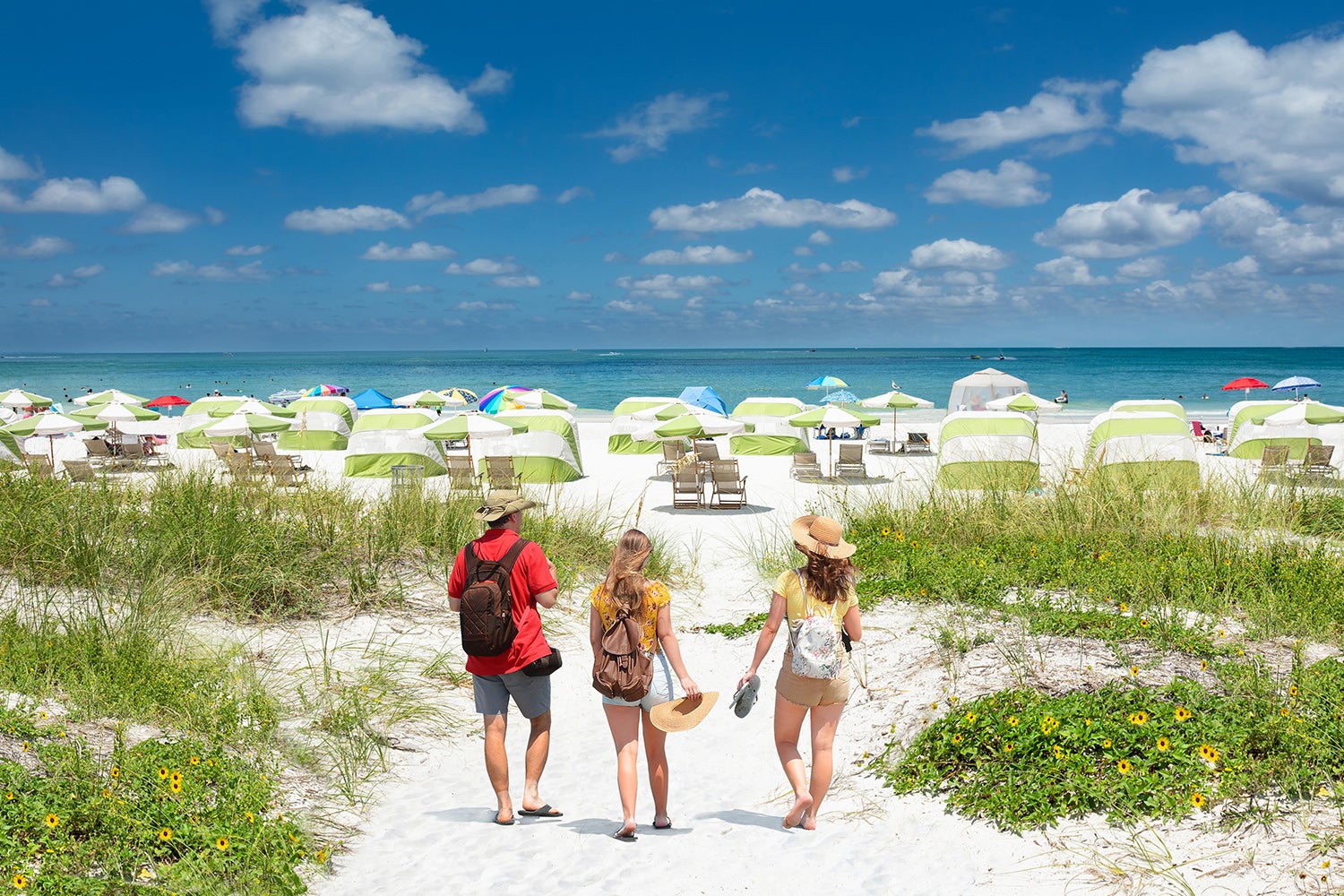 Over 70 million people visited theme parks in or near Orlando in 2018, according to a report from the Themed Entertainment Association, a nonprofit organization, and AECOM (Architecture, Engineering, Consulting, Operations and Maintenance), a multinational engineering firm. Based on data from this report, on average over 190,000 people attended a theme park in the Orlando area every day that year.
Beyond Orlando is a mecca of tourist activity. In 2018, over 124 million people visited the Sunshine State, according to data from Visit Florida. This makes Florida one of the most popular states for tourists in the country.
With so many travelers exploring Florida's pristine beaches, bustling nightlife and ample entertainment opportunities throughout the year, many residents and visitors might not be aware of the impact that tourism has had on local businesses and the statewide economy. This guide will provide statistics regarding Florida tourism and how it affects the state economy, how the tourist landscape has shifted and evolved throughout the decades, and what vacationing in the Sunshine State will look like in the future.
Florida Tourism: Statistics and Economic Impact
Out of all the states in the country, Florida has the fourth-largest GDP (gross domestic product), at $883.1 billion, behind only California, Texas and New York, according to a 24/7 Wall St. article. In Florida's economy, tourism is one of the largest industries contributing to Florida's GDP growth.
In 2017, Florida visitors spent nearly $90 billion, according to data published by Rockport Analytics. Tourism spending in Florida has also yielded high tax revenue at the federal, state and local levels. According to a report from Rockport Analytics, Florida tourism activity generated $13.3 billion in federal tax revenue and $11.4 billion in state and local tax revenue in 2017. "Of the $89 billion in visitor spending, over $85 billion was retained in the state economy providing an array of businesses with revenue, supporting jobs for Florida citizens, and producing revenue for Florida state and local governments," the report states.
International visitors also contribute significantly to Florida's tourist economy. In 2018, roughly 11 million tourists visited from overseas, with travelers visiting most frequently in the last quarter of the year (2.856 million), according to research from Visit Florida.
As tourists continued to visit in greater numbers over the past few years, employment has risen within Florida's tourist industry, with the addition of tens of thousands of employees each year. But theme parks aren't the only factor contributing to Florida's economic growth: Florida tourism statistics show that state beaches and the cruise industry are also large economic generators.
"Approximately, 63.4% of all registered lodgings in Florida are located in coastal Florida counties," according to a report from Florida's Office of Economic and Demographic Research. That report states that over 15 million passengers embarked on cruises from Florida seaports in 2016 and that even though significant spending occurs onboard a ship or at ports of call, "most out-of-state tourists will spend additional days in Florida either before or after the cruise."
Evolution of Florida Tourism Across Decades
Florida's pristine beaches and natural splendor made it a popular destination for wealthy tourists, and it was business magnate Henry Flagler who helped bring these destinations to life in the late 1800s. After the death of his first wife, Flagler married Ida Alice Shourds and the two traveled to St. Augustine shortly after. According to a biography from the Flagler Museum, the couple found the region "charming but lacking in adequate hotel facilities and transportation systems. Flagler believed that Florida had the potential to attract large numbers of tourists. Though Flagler remained on the Board of Directors of Standard Oil, he gave up his day-to-day involvement in the corporation in order to pursue his interests in Florida."
Flagler then began constructing hotels and railroads across the state over the next few years, enabling visitors to travel to Florida and have access to necessary accommodations. "During the next quarter century, he literally invented modern Florida. The transportation infrastructure and the tourism and agricultural industries he established remain, even today, the very foundation of Florida's economy," according to the biography. While flying into the state is now more popular than railroad travel, Flagler helped establish Florida as a viable tourist destination with his railroad building.
Also contributing to the rise of Florida's tourism industry in the early 20th century was the increasing popularity of the state's main ports. Writing for the South Florida Sun Sentinel, Ken Kaye notes how Fort Lauderdale's Port Everglades began attracting more and more ships up to the 1960s. Cruise line operation grew in the 1980s and 1990s at the Port of Palm Beach, and the Port of Miami's cruise industry flourished in the latter half of the century. Port Canaveral too, located east of Orlando, remains the second-busiest port in the world, indicating the strength of the industry across the entire state.
Around the same era when Florida's cruise industry was setting sail, Walt Disney was soaring above Florida, scouting out potential locations for his next theme park. Disney and his company organized the purchasing of "land in Florida, and the Walt Disney World project, located on some 28,000 acres near Orlando, was announced. It opened October 1, 1971," according to D23, the official Disney fan club.
Two years after the opening of Walt Disney World, Orlando would become home to its second theme park, SeaWorld. In 1990, Universal Studios opened in Orlando as well. "With the growth of theme parks came the growth of businesses and infrastructure to accommodate the influx of visitors," according to NASA's Earth Observatory . "However, not everyone in the area is just a visitor. Schools, neighborhoods, and businesses were also built to support the area's more permanent residents." Since the arrival of Walt Disney World and SeaWorld in the early 1970s, Orlando's population more than quadrupled up to 2014.
Future of Florida Tourism
Tourism is still predicted to be themain driver of economic activity for Florida in the coming decades, but the state will face difficult challenges as more and more visitors pour in. Dr. Alan Fyall, Associate Dean of Academic Affairs at the University of Central Florida, states, "The environmental and economic sustainability and resilience of Florida's tourism industry will be severely tested in the years to come if it fails to adapt to the many external threats on the horizon with climate change and sea level rise of particular concern to Florida's many world-class coastal destinations."
Florida has 1,350 miles of coastline and is subject to frequent severe-weather events, such as hurricanes, making the state that much more susceptible to climate-change threats. Rising shorelines increase the probability of real estate becoming damaged or destroyed and making beaches less appealing or accessible. Additionally, as climate change can increase both the occurrence and ferocity of disastrous weather events, this may dissuade travelers from visiting the state in such high numbers if there is no development of measures or solutions to these problems.
According to a report from the Florida Climate Institute, "the state should continue making improvements in building capacity towards adaptation, specifically in the tourism industry, and better model the uncertainty associated with a changing climate and its associated impacts concerning the tourism economy." Additional climate-change threats that could hamper Florida's tourism industry include threats to local ecosystems, variances in quality and availability of water, and migrations of certain fish, birds and mammals, according to a report from the National Climate Assessment.
However, Orlando and the rest of Florida still look to be future hot spots of tourist activity beyond theme parks, beaches and cruise lines.
Esports, or competitive multiplayer gaming, may become another highlight of Orlando and Florida's tourism industry in the coming years. According to Fyall, "For the new generation of visitor, esports are likely to serve as a major attraction with considerable opportunities existing in many of Florida's primary destinations, such as Orlando with its world-class arenas and stadia and young and diverse populations." Writing for the Orlando Sentinel, Marco Santana also notes that a new esports arena called The Fortress is buoying hopes of an influx of high-profile gaming events.
Virtual reality also looks to be a booming new component of Florida's tourism industry. In 2018, the Legoland Florida Resort unveiled a new ride called The Great LEGO Race — riders wear VR goggles that project images and video as they barrel down the ride. Walt Disney World and Universal Studios also offer VR and 3D rides.
Resources
Those looking to discover more about Florida's tourism industry can benefit from reviewing the following resources and guides:
Visit Florida. This organization serves as the "Official Florida Tourism Industry Marketing Corporation," according to its website. Visit Florida provides a range of information and resources, including tips regarding family-friendly activities and highlights of state beaches. Tourists can use the website to discover helpful travel information. Visit Florida also offers tools and resources for small businesses interested in participating in the state's tourism industry. Additionally, Visit Florida releases economic impact reports regarding the tourism industry's effect on the state.
Visit Orlando. This organization is the official tourism arm of Orlando, home to the state's major theme parks. Tourists can use this resource to find out information regarding theme park tickets, hotel reservations, tips for visiting, and news and updates regarding parks such as Walt Disney World and Universal Orlando.
Florida tourism history resources. For those who seek to learn more about Florida's rich history of tourism, they can turn to a variety of resources and guides. The Orlando Sentinel has a photo guide of notable Florida tourism events and developments through the decades. The Florida Department of State also provides links to reputable books and publications regarding Florida's tourism history.
The Future of Florida Tourism
Since the late 1800s, Florida has remained a bastion of tourist activity, with millions of visitors treading from all corners of the globe toward the state's glistening beaches and bustling theme parks. Just as the state innovated in the past and laid a successful bedrock for the tourism industry, current Floridians have the ability to do the same and help keep their state a welcoming place for all travelers.
Recommended Readings
Rosen Research Review: Climate Change and Tourist Destinations
Rosen Research Review: Holiday Research
Rosen Research Review: How Effective Are Virtual Reality Experiences as Destination Marketing Tools?
---
Online Hospitality Degrees at UCF
---