When it comes to nursing degrees, you might hear a nursing professional referred to as a registered nurse, licensed professional nurse, MSN, BSN, even a DNP or PhD! With so many options for nursing degrees and so many different types of nurses, how do you know which degree to pursue when you're just starting out your nursing education? Each nursing degree can yield a fulfilling nursing career, but depending on which path you pursue, you may have different responsibilities, different compensation, and different job opportunities.
Most new nurses are a registered nurse (RN)—and a growing majority earned a Bachelor of Science in Nursing (BSN) to become one. In this article, we'll walk through the differences between the RN license vs BSN degree to help you decide which path is best for your nursing career.
What Is an RN?
An RN isn't a degree, it's a license. RN stands for registered nurse, and nurses in many different clinical settings have this certification. Nurses either pursue an Associate of Science in Nursing (ASN) or BSN to be eligible to take the RN licensure exam and become an RN. A registered nurse is who you would commonly get treatment from at a hospital, doctor's office, clinic, or school. There are other types of licensed nurses, including certified nursing assistant (CNA) and licensed practical nurse (LPN), but RNs are who you typically think of as a nurse.
RNs may have various job titles depending on which setting they practice in or which field they specialize in. For example, RN positions include job titles like emergency room nurse, labor and delivery nurse, or school nurse in some cases.
RN's job duties vary depending on where they practice, but they typically involve providing and coordinating basic medical care, performing physical exams and diagnostic tests, operating medical equipment, recording vital signs on medical records, offering education and emotional support to patients and families, and administering medication. RNs are trained in clinical skills, but they don't necessarily have experience that would allow them to take on an advanced nursing role, a nurse educator position, or a management position.
Becoming an RN
A nursing student receives their RN license by passing the nursing national licensing exam, called the NCLEX-RN exam, and obtaining a license in the state where they will be working. In order to prepare and qualify for the NCLEX exam, a student nurse must first complete the education requirements for the RN license. Aspiring RNs can either complete an associate degree program or obtain a bachelor degree from an accredited nursing program. An Associate Degree in Nursing (ADN) or Associate of Science Degree in Nursing (ASN) typically takes 2–3 years to earn, while a Bachelor of Science in Nursing (BSN) degree can take longer. Both programs are available in-person or as an online program.
What Is a BSN?
BSN is an undergraduate degree which stands for Bachelor of Science in Nursing. Completing a BSN program is one way to start your career in nursing and obtain your RN license. While technically all BSN graduates are RNs—at least if they take the RN licensure exam and practice nursing—all RNs aren't BSNs.
A BSN-trained nurse will be prepared for several different career options and nursing roles after they finish their degree. They can practice nursing in a healthcare setting, like an RN, but they are also prepared for roles in research, leadership, or management. They're also equipped to pursue additional education like a Master of Science in Nursing (MSN) degree or a doctoral degree (PhD or DNP).
Earning Your BSN Degree
A BSN degree program is generally a four-year bachelor's degree program from an accredited undergraduate school. However, if you already have a bachelor's degree in a different field, some nursing schools offer an accelerated BSN program that can be completed in as little as 18 months in some cases.
Like all RNs, after meeting all the education requirements, BSN-prepared nurses must take and pass the NCLEX-RN exam after receiving their degree in nursing before they can practice as a registered nurse.
RN-ASN vs RN-BSN: Which Is Better?
There's a difference between earning a BSN degree and holding an RN license—it's important to do your research and determine which option is the best for you. Both options provide different but overlapping job opportunities. However, in general, BSN-educated RNs have greater opportunities and income, so the additional investment to obtain a BSN degree vs an RN license through an associate's degree is worth it to most people.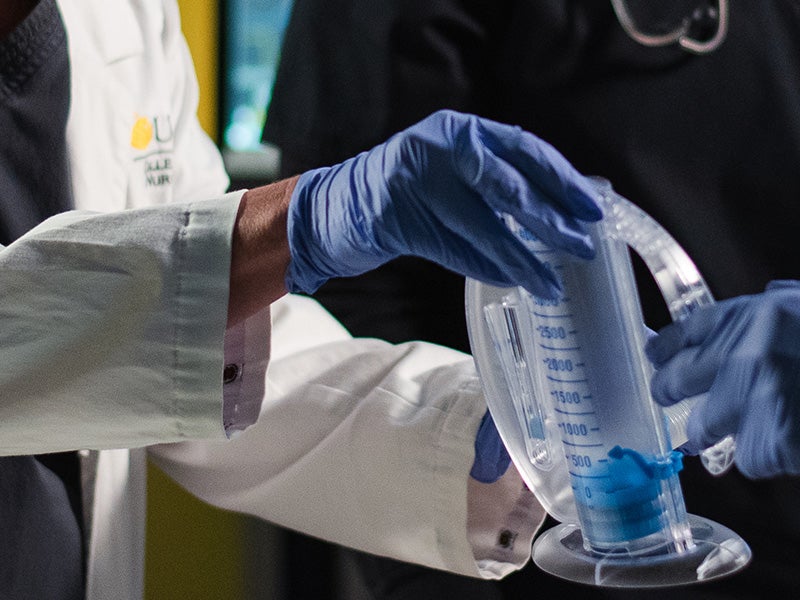 Job Prospects
Traditionally, ASN-educated RNs and BSN-educated RNs had similar career opportunities. However, in today's day and age, more healthcare facilities are looking for nurses to have BSN degrees. That's because BSNs have additional training in critical thinking, case management, leadership skills, and health promotion and get more practice working in various inpatient and outpatient settings. In some cases, healthcare providers are even requiring their RNs to have BSN degrees.
This is good news for BSN students for a few reasons. To start, they'll be more competitive for entry-level positions, making it easier to find a job after obtaining their nursing degree. However, once they start working and gain a few years of experience, they'll be more desirable for administrative positions, leadership roles, or nursing roles in specialty fields. If they decide they want to pursue additional education to become a nurse educator or nurse practitioner, for example, they'll be well equipped to gain entry into an accredited graduate nursing program.
Although RNs with associate's degrees may not be as competitive for entry-level nursing positions or promotions, all RNs still have a great job outlook. According to the U.S. Bureau of Labor Statistics, RN jobs availability will increase 9% by 2030, meaning all nurses, whether they're associate degree RNs or BSNs, will be in high demand.
RN-ASN vs RN-BSN Programs
The primary difference between RNs who earn an associate's degree and RNs who have earned a BSN degree is the educational requirements. Compared to a two-year associate degree program, a BSN program is typically going to cost more and take longer to complete. At face value, this may seem like a negative aspect of BSN programs. However, considering that BSN programs typically provide more hands-on experience to students and equip future nurses for career advancement, the investment in additional education requirements may be worth it in the long run. Additionally, because more healthcare organizations are looking for RN-BSNs, many employers in the healthcare industry are offering tuition reimbursement for RNs to obtain their BSN degree.
RN-ASN vs RN-BSN Salary
BSN-educated RNs typically make an annual salary that is higher than the average salary of an ASN-educated RN. While the specific pay rates vary from organization to organization, having a BSN degree usually increases earnings by several thousand dollars a year. Additionally, since RN-BSNs are more desirable for promotions and other growth opportunities in healthcare organizations, they're more likely to have further opportunities to increase their annual salary than an RN with an associate's degree.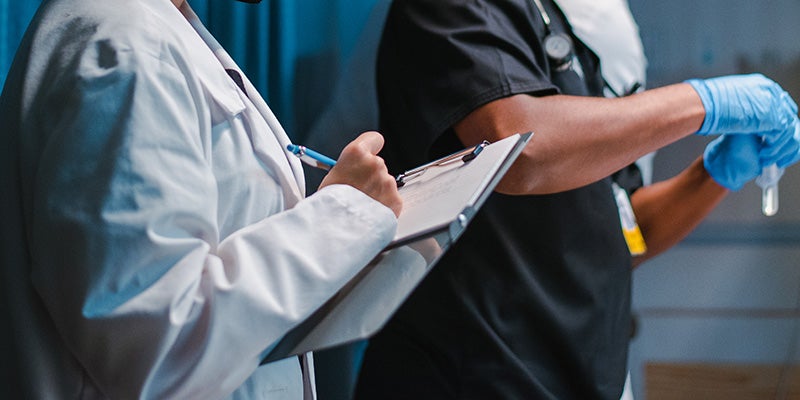 How To Decide Whether RN-ASN vs RN-BSN Is Right For You
If you're just starting out your nursing career, it can be difficult to determine which nursing career path is right for you. Is an RN by way of an associate degree program going to bring you the income and career options you desire over the course of your career, or is the additional up-front investment of time and money to obtain a BSN degree a better decision?
If you're struggling to decide, consider your lifelong career goals as well as your current finances and availability. If cost or time is a barrier right now, you could first pursue an associate's degree to start working as an RN and pursue your BSN degree in the future while you work!
If you hope to pursue an advanced nursing specialization or degree, like a nurse anesthetist, nurse practitioner, or nurse educator, you're going to need a BSN degree at some point. Even if you just want to access the wealth of opportunities that are available for new nurses—from being a travel nurse to acting as a public health nurse—you'll be more competitive for positions with a BSN degree.
Get Your BSN Online With UCF
If you're ready to take your nursing degree to the next level and access the increased opportunities and income that are available with a BSN degree, consider completing your education online with UCF's online nursing B.S.
UCF's high-quality online education is accredited by the Commission on Collegiate Nursing Education (CCNE), and our nursing programs have been specifically recognized by the U.S. News & World Report for excellence. Our online BSN degree offers an RN to BSN track, a convenient and flexible option for nurses who have earned an associate's degree and are already working as an RN to advance their career prospects. With three start dates a year, you'll work on your degree when it works for you, and with specialized courses in leadership, research, and healthcare policy, you'll be prepared for many fulfilling nursing roles.
If you're not already practicing as an RN and looking to obtain your BSN degree, UCF has several with an in-person degree options, including a traditional BSN and accelerated BSN for career-changers.
For the most flexible education, try one of UCF's hybrid classroom-online BSN programs, which make it easier and faster to go from an ASN to a BSN degree: Seminole State/UCF Concurrent ASN to BSN, Valencia/UCF Concurrent ASN to BSN, or Florida College System Concurrent ASN to BSN.