Program at a Glance
Program

Master

College(s)

Department(s)

Industrial Engr & Mgmt Sys
$1,194.05
per credit hour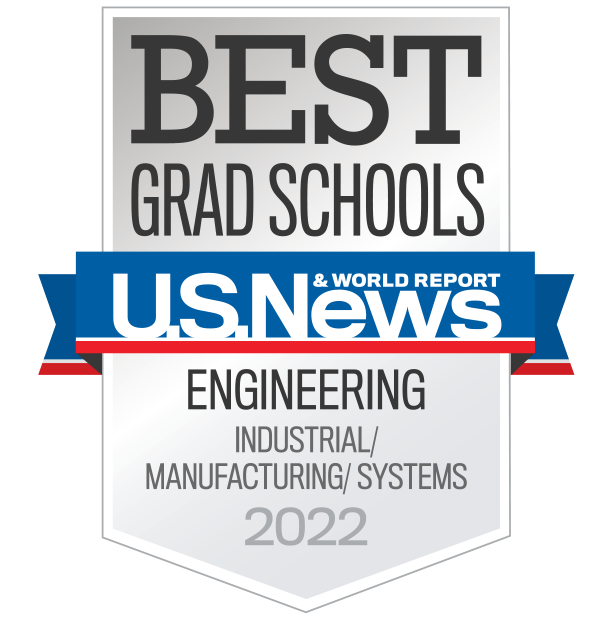 The Department of Industrial Engineering and Management Systems offers a Master of Science in Industrial Engineering (MSIE) degree focusing on the design and improvement of systems, products, and processes. This degree is available to those applicants with a bachelor of science degree in Industrial Engineering (BSIE) or other Engineering degrees ONLY.
A total systems approach is used to optimize the various aspects of operations in both manufacturing and service industries. Industrial engineers use many analytical approaches to improve productivity, safety, and quality of working life while reducing operating costs. The MSIE curriculum builds on an undergraduate engineering degree to develop a stronger systems focus and analytical capability.
The industrial engineering graduate programs are structured to support the emergence of Central Florida as a national center of high technology as well as supporting the diverse service industries in the region and throughout the nation.
Many of the graduate courses offered by the department or required in the MSIE program are offered through the Florida Engineering Educational Delivery System (FEEDS), which provides video-streamed versions of classes over the Internet.
This program can be taken entirely through the Center for Online and Virtual Education (COVE), which provides video-streamed versions of classes over the Internet. More information about this program can be found at http://www.cecs.ucf.edu/COVE/ or (407) 823-3814.
The Industrial Engineering MSIE degree requires an undergraduate degree in Industrial Engineering or any other Engineering degree. Students with undergraduate degrees outside of industrial engineering may be required to take additional prerequisites. The program offers both thesis and nonthesis options with each requiring 30 credit hours of courses. At least half of the regular coursework must be at the 6000 level. A cumulative grade-point average of 3.0 must be maintained in the entire program of study.
Thesis Option: The thesis option requires 30 credit hours: 12 credit hours of required courses, 12 credit hours of electives and 6 thesis credit hours. Students must also write and successfully defend a thesis.
Nonthesis Option: The nonthesis option requires 30 credit hours: 12 credit hours of required courses, 15 credit hours of electives, and a 3 credit Capstone course, EIN6950, Industrial and Systems Engineering.
Research studies are required in one or more courses. The research study and report will focus on reviewing and analyzing contemporary research in the profession in order to help students acquire knowledge and skills pertaining to research-based best practices. In addition, students may engage in directed independent studies, directed research or a research report during their studies.
A program of study must be developed and approved by the graduate program director during the first semester of enrollment. At least one-half of the credit hours (including thesis hours) required in a master's program of study must be at the 6000 level or higher.
Students on assistantships must take 9 credit hours per semester to satisfy the university's requirement for full-time status. Most students working full time take 6 credit hours per semester. At that rate, the program can be completed in 6 semesters or less. However, students with more time available and with an early start on a thesis, if applicable, can finish the program in 3 semesters.
Total Credit Hours Required: 30 Credit Hours Minimum beyond the Bachelor's Degree
This program has potential ties to professional licensure or certification in the field. For more information on how this program may prepare you in that regard, please view the licensure disclosure for the Industrial Engineering MSIE program.
Please note: Industrial Engineering (MSIE) may be completed fully online, although not all elective options or program prerequisites may be offered online. Newly admitted students choosing to complete this program exclusively via UCF online classes may enroll with a reduction in campus-based fees.
International students (F or J visa) are required to enroll in a full-time course load of 9 credit hours during the fall and spring semesters. Only 3 of the 9 credit hours may be taken in a completely online format. For a detailed listing of enrollment requirements for international students, please visit http://global.ucf.edu/. If you have questions, please consult UCF Global at (407) 823-2337.
UCF is not authorized to provide online courses or instruction to students in some states. Refer to State Restrictions for current information.
Spring

December 1

Fall

July 1
Spring

July 1

Fall

January 15
---
University of Central Florida Colleges