Comic Conventions: Their Popularity and Impact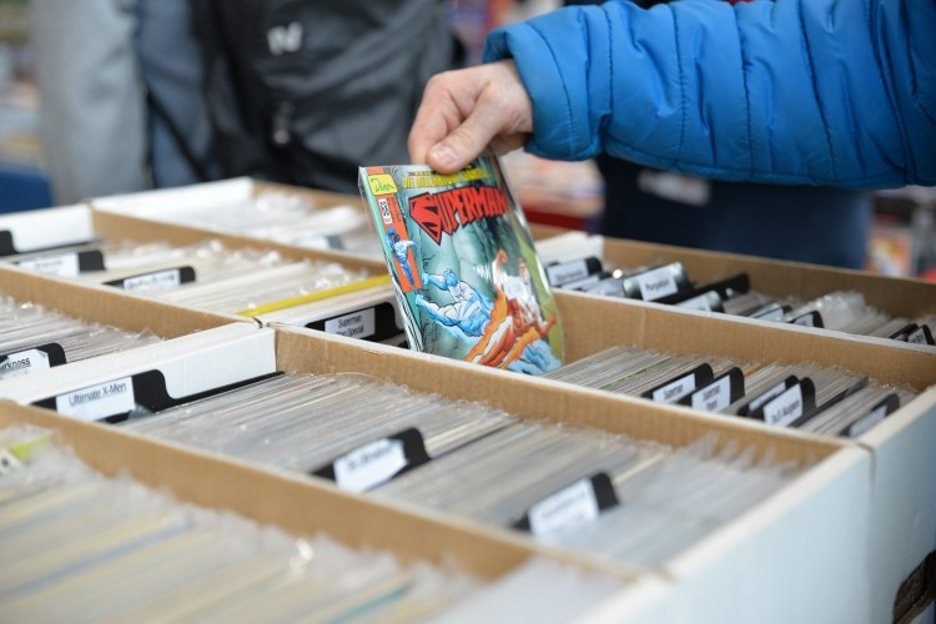 For those who are unfamiliar with comic book culture, the idea of a fan convention may seem niche; on the contrary, comic conventions and similar gatherings have become not only mainstream but also wildly successful. A 2019 Forbes article notes that comic conventions have grown into "an industry that now contributes billions of dollars in economic impact to host cities." Meanwhile, more comic conventions continue to appear around the world, including both smaller, regional gatherings and more lavish, international affairs.
These conventions provide fans the opportunity to meet other people who share their interests, interact with favorite content creators, receive sneak peeks at upcoming content, and purchase merchandise. Additionally, they provide opportunities for local hospitality industries to cater to these increasingly large fan bases, potentially generating significant revenues. For those interested in getting into the hospitality field, a formal degree in hospitality management, tourism or event management can provide the educational foundation and skills required.
Biggest Comic Conventions
To understand the meteoric rise of comic conventions, it's important to take a closer look at their roots and their evolutionary trajectory. In mere decades, these events have grown exponentially in their reach and influence.
The History of Comic Conventions
The first comic book convention took place in New York City in 1964. San Diego Comic-Con International, which is considered in the industry to be the flagship event, got its start in 1970.
These early conventions were intimate affairs, hosted by small groups of like-minded comic collectors and fans, generally taking place in regional hotels. (The first San Diego Comic-Con had around 100 participants; today, the annual attendance exceeds 130,000.) In these early cons, the emphasis remained largely on exhibiting rare or special comics and bonding over shared fandom.
How Cons Have Evolved
Over the years, conventions have changed considerably and are now more widely inclusive to different kinds of fandom — not just comics, but also sci-fi movies, board games and more. Major publishers and even Hollywood movie studios have gotten involved.
"Branded events have been created to showcase one's intellectual property and expose current consumers to other products within the brand family," explains Sean Bliznik, assistant professor at the University of Central Florida's Rosen College of Hospitality Management. "For example, in 2008 The Walt Disney Company launched 'D23: The Ultimate Fan Event,' now branded as 'The Official Disney Fan Club.' This biannual event focuses on providing a first look at upcoming projects across the company from Parks and Resorts to Disney Animation to Marvel Studios and beyond. While Disney content has a presence at third-party comic conventions, the manufacturing of their own event helps to control the narrative and potential dilution of the brand."
One of the most significant evolutions may be the rise of cosplay, or dressing up in costumes. This is an increasingly common occurrence at comic conventions, with fans delighted to show up dressed as their favorite superheros or movie characters.
"Interestingly, the cosplay movement alters the experience in a unique and personal way," Bliznik says. "Cosplayers develop their own following and a new level of fandom is created and maintained. These professional cosplayers create personal small businesses which can include offering meet and greets, print photos or video messages."
Comic Conventions Today
In recent years, conventions have gotten bigger and bigger. In 2015, San Diego Comic-Con generated profits exceeding $17 million and it continues to grow each year, with the revenue in 2017 reaching $19 million.
San Diego remains the largest comic convention in the United States, while New York Comic Con is the largest on the East Coast. At any given convention, there may be hundreds of events in; in San Diego, participants have more than 600 options for panels, demos, previews and similar activities.
As for international conventions, Comiket (or Comic Market), which takes place in Tokyo, often has attendance exceeding 590,000 people, mostly focusing on the Japanese comic genre called manga. This convention started in 1975 and has grown considerably since then.
The Impact of Comic Conventions
Over the years, comic conventions have become increasingly commercialized. In the process, they've saturated the culture, turning into mainstays of TV shows such as The Big Bang Theory and late-night programs such as Conan, which does live shows from San Diego Comic-Con.
This is a boon for comic fans and the industries they support, but it also represents significant economic expansion for local tourism industries. Comic conventions bring financial success to local businesses of all kinds. For example, San Diego Comic-Con 2019 brought 135,000 people to San Diego, impacting restaurants, stores, hotels, shops and other businesses.
Meanwhile, the annual New York Comic Con brings more than $100 million to the local economy. Even relatively smaller conventions, such as Phoenix Fan Fusion (formerly Phoenix Comic-Con), can make a huge economic impact; this convention brings in more than $5 million each year.
Comic Conventions and the Hospitality Industry
Comic conventions demonstrate a unique opportunity within the hospitality industry to adapt to the desires and interests of the consumer. "Culturally, Comic Cons provide a safe space for both the casual attendee and the ardent fan, thereby creating a smaller expressionistic niche within an already niche industry," Bliznik explains. "Whereas many businesses cannot change their offering directly, such as a hotel's theme or a restaurant's location, Comic-Cons can alter both their location and their content to meet an ever-changing and ever-demanding, but appreciative, crowd."
The larger comic conventions draw huge numbers of fans from across the country and, in some cases, throughout the world. These millions of fans may stay for several days in their host cities, spending money at area hotels, restaurants and shops.
The opportunities for the hospitality industry to capitalize on these fan conventions are numerous: The United States alone has 1.87 million annual conventions that drive tourism. For local businesses and tourism industries to thrive, however, they need to be fully prepared and staffed with hospitality professionals who have the management skills necessary to handle these droves of convention attendees.
These skills can include proper staffing for hotels and restaurants, which might experience surges in activity. Additionally, advanced planning is critical, ensuring the right amenities are in place for bigger groups. Hospitality professionals may also require an awareness of local sustainability practices or environmental policies, which can become more pressing when larger tourist groups pass through.
Pursuing an online hospitality degree program is a way to develop these skills and bring real leadership to regional hospitality endeavors.
"As with all hospitality professions, the more one can embed themselves in the industry, the more they have to offer its consumers," Bliznik says. "If I am an active comic-con attendee and also happen to be a trained hospitality professional, then I demonstrate the hallmarks of both understanding the guest and leading within the industry, which is a crucial and necessary connection."
Getting Started in the Hospitality Industry
The University of Central Florida's online hospitality degree programs offer the chance to hone key management skills. Students who enroll will have the chance to study such foundational concepts as lodging management and theme park management, as well as basic skills such as finance, operations and customer service theory. Learn more about these unique programs and the opportunities they can provide.
---
Online Hospitality Degrees at UCF
---