Event Planning – Tips, Tools and Resources for Security and Success
Event planning is a highly complex and dynamic field that comes with many challenges and opportunities. Both experienced and newly minted event planners rely on a toolbox of resources, best practices and digital tools to minimize crises and support event success. To learn more, check out the infographic below: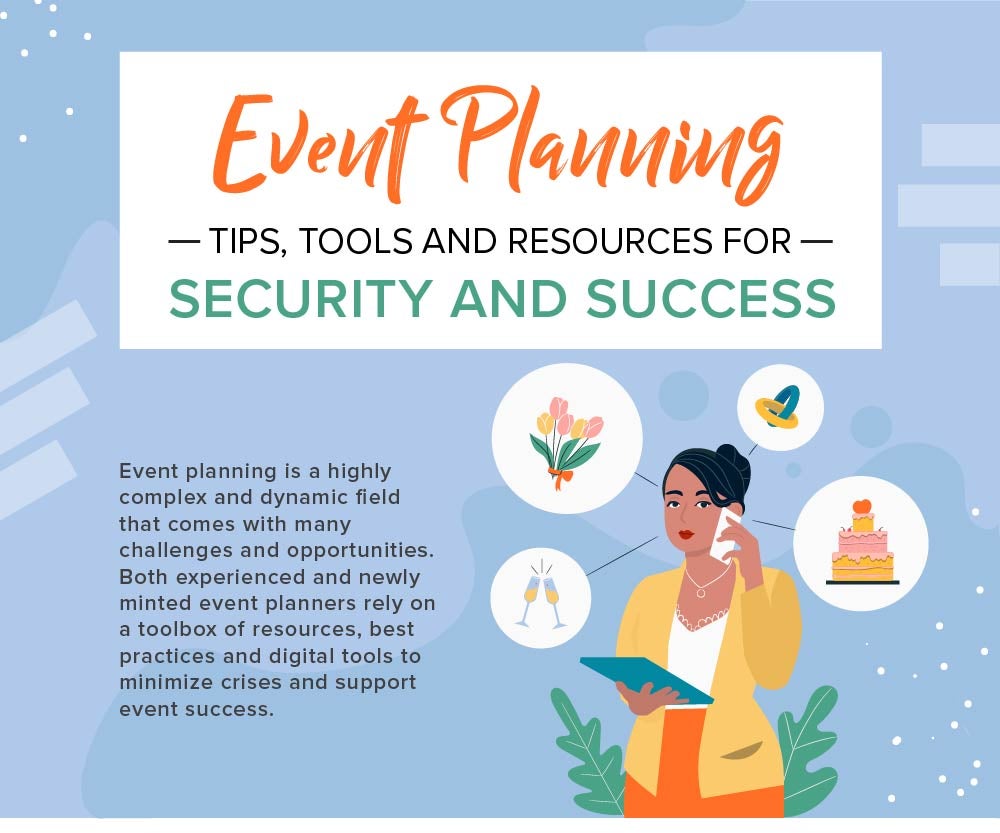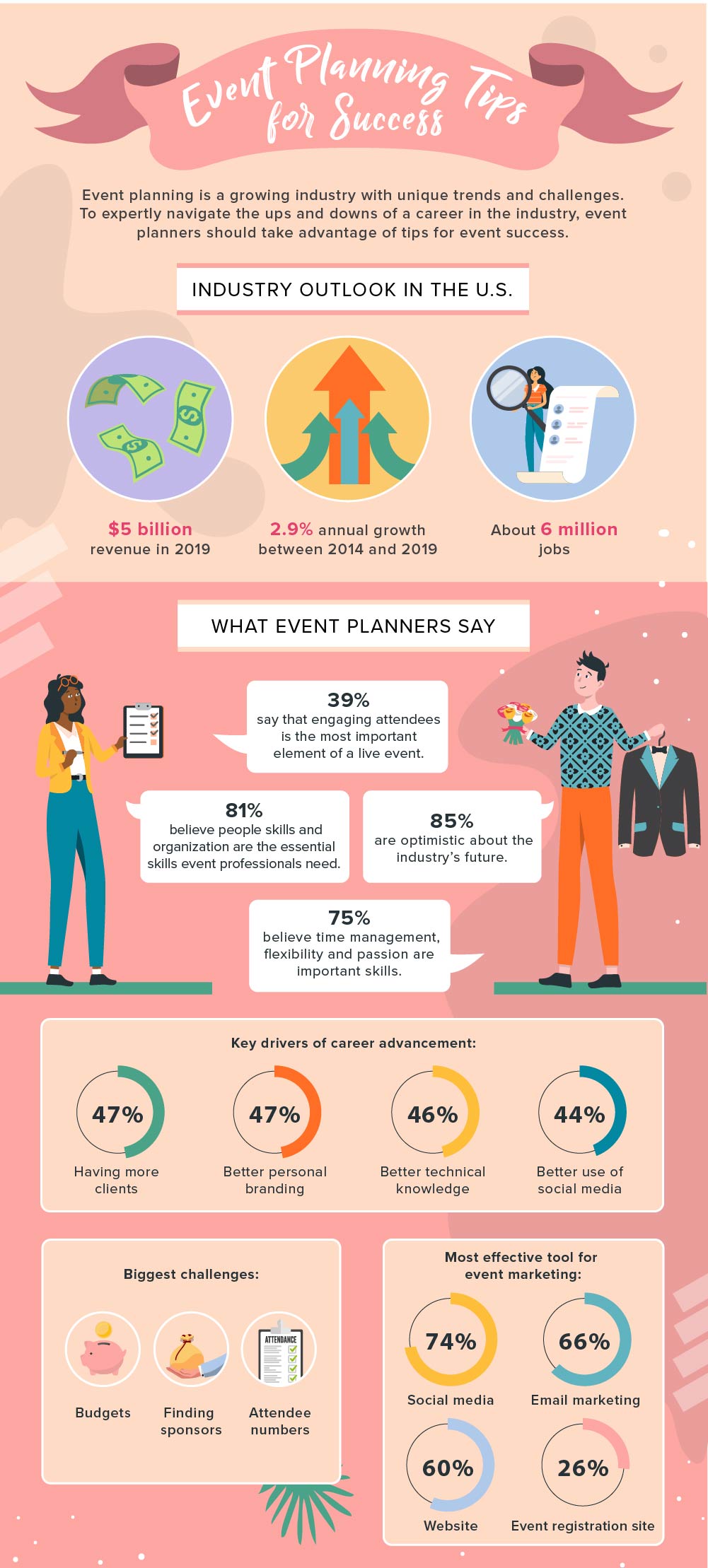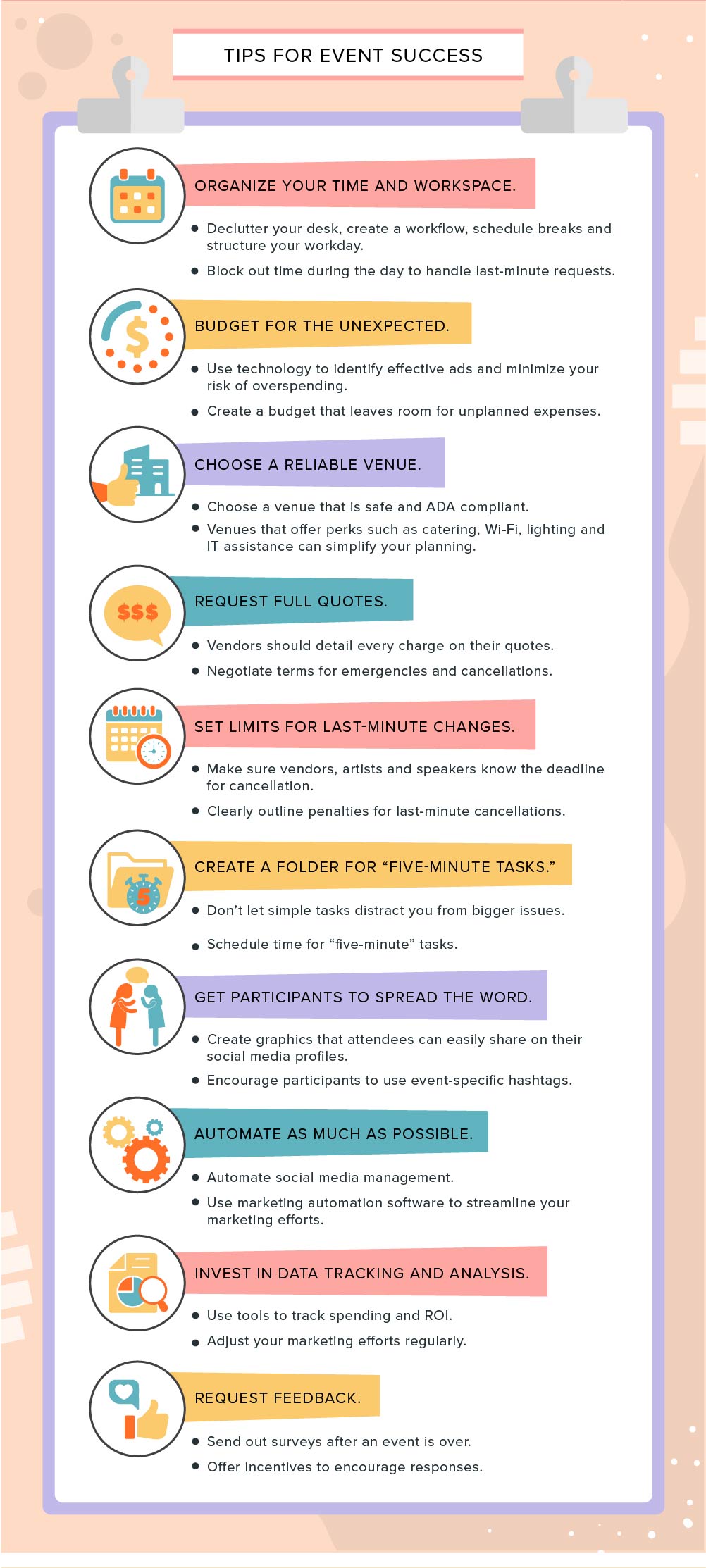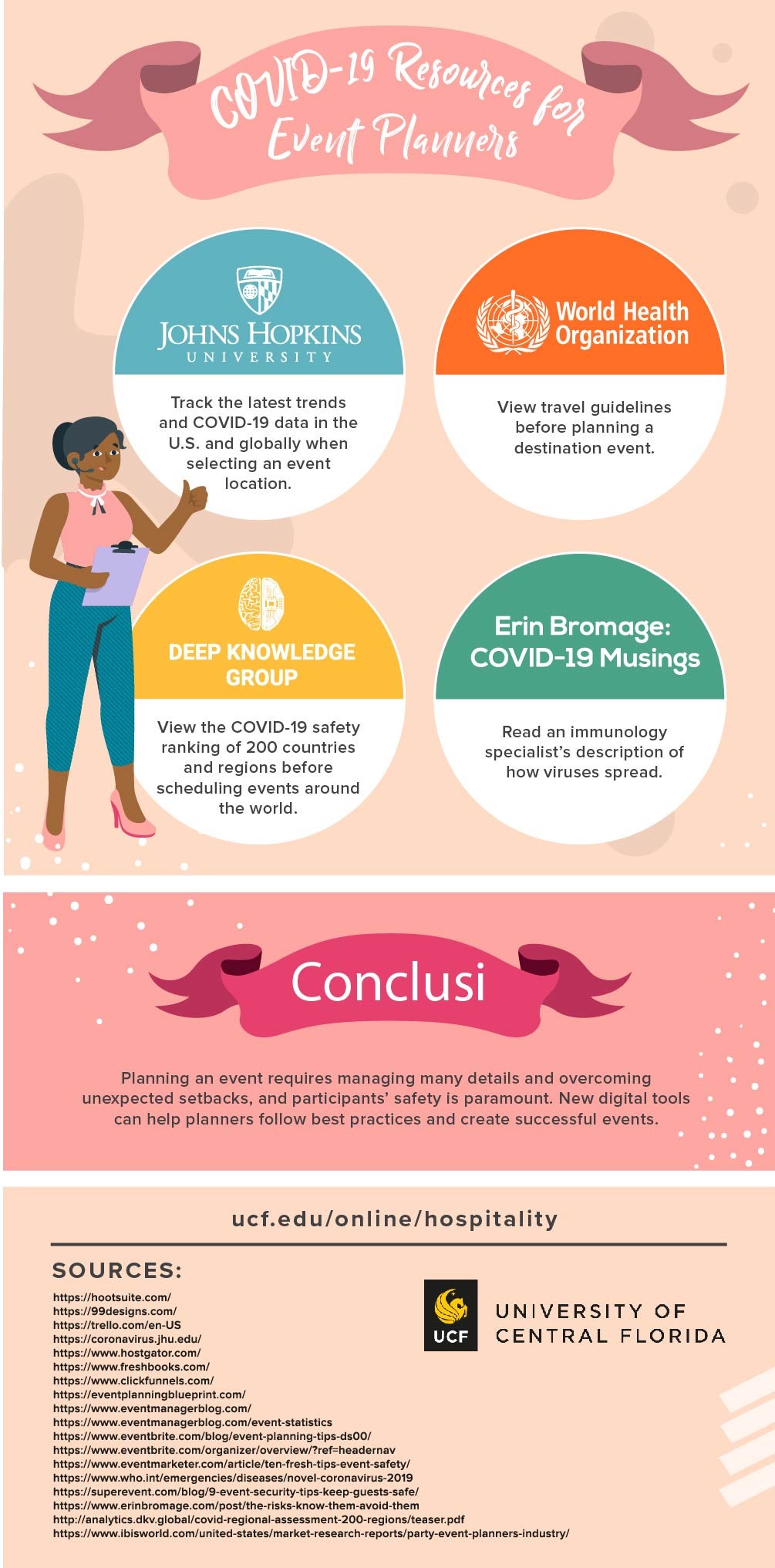 Event Planning Tips for Success
Event planning is a growing industry with unique trends and challenges. To expertly navigate the ups and downs of a career in the industry, event planners should take advantage of tips for event success.
Industry Outlook in the U.S.
In 2019, the event planning industry generated $5 billion. It enjoyed a 2.9% annual growth between 2014 and 2019, adding roughly 6 million jobs along the way.
What Event Planners Say
Studies indicate 39% of event planners state that engaging attendees is the most important element of a live event. Over eighty percent believe people skills and organization are the essential skills event professionals need, while 75% believe time management, flexibility and passion are important skills. Eighty-five percent are optimistic about the industry's future.
When asked about key drivers of career advancement, 47% of event planners pointed to having more clients, 47% cited better personal branding, 46% mentioned better technical knowledge as important and 44% stated better use of social media.
In terms of event marketing tools, 74% of individuals stated social media was most effective, followed by email marketing (66%), websites (60%) and event registration sites (26%). The biggest challenges to overcome include budgets, finding sponsors and attendee numbers.
Tips for Event Success
Managing successful events requires organizing your time and creating a workflow for a productive workday. It's also wise to create a folder for "five-minute" tasks. It's helpful to create a budget to prepare for the unexpected, use technology to help guard against overspending, and request full quotes from vendors.
When choosing a venue, make sure it's safe, reliable, and offers perks like Wi-Fi and IT assistance.
Finally, it's vital to use other resources to help market the event as well as plan for future events. This can be achieved by getting participants to spread the word, automating elements like social media management, investing in data tracking and analysis and requesting feedback from attendees and sponsors.
Event Planning Tips for Safety and Security
Making sure participants are safe and secure is crucial to an event's success. The following event planning tips are designed to ensure event safety and security.
10 Tips For a Safe Event
The first tip is to document everything, from detailing every aspect of an emergency to documenting injured attendees' vital information. Secondly, it's important to keep private events private by establishing privacy guidelines. Another essential action is to run background checks on staff, including running credit checks on staff members charged with handling cash. You can also develop an attendee screening strategy, which could range from attendee registration requirements to doing bag checks.
When it comes to safety procedures, it's important to be proactive by creating procedures and notification systems in case of a mass evacuation. It's a good idea to establish a safety team ready to help in the event in an emergency and enlist a medical team to provide an extra layer of safety. Additionally, you should develop a clearly defined emergency communication protocol and an emergency action plan.
Finally, it's important to document triage risks that clearly outline required behaviors and actions for different levels of an emergency, leaving enough room for common sense to take precedence over process.
Resources and Tools for Event Planning and Management
Event planners today have access to simple yet advanced tools that can help build websites, promote an event and track every detail of the planning process.
One of these tools is Event MB, an online resource for event professionals that provides information regarding industry trends, technology, innovation and education. Event Planning Blueprint is an informational website that offers coaching services, online event planning courses and event contracts. The project management platform Trello can help event planners by assisting in project organization and prioritization as well as integration with applications like Dropbox and Google Drive.
Another tool is Eventbrite, an online platform offering event listing services like built-in payment processing and analytics as well as on-site planning, consultation and logistics services. Hootsuite can help event planners with social media-related tasks like content curation, analytics and conversation monitoring.
On the website front, the hosting service HostGator offers web design, pay-per-click advertising, SEO and daily automatic backup services. The website and sales funnel builder ClickFunnels can help guide visitors through the entire sales process and direct customers to the right product or service.
Freshbooks Cloud Accounting, offers small-business invoicing and accounting software that automates invoicing, expense organization and time tracking while also offering project collaboration features. Finally, 99designs is a creative platform where event planners can hire graphic designers to design logos, apps, merchandise and packaging.
COVID-19 Resources for Event Planners
There are also several tools event planners can use to help them navigate the ongoing coronavirus crisis. Johns Hopkins University gives event planners the resources needed to track the latest trends and COVID-19 data in the U.S. and worldwide when selecting an event location.
The World Health Organization offers travel guidelines event users can review prior to planning a destination event. Deep Knowledge Group allows event planners to view the COVID-19 safety ranking of 200 countries and regions before scheduling events around the world. Finally, Erin Bromage: COVID-19 Musings is a blog where event planners can read an immunology specialist's description of how viruses spread.
Proactive Planning For Success
Planning an event requires many details and overcoming unexpected setbacks, and participants' safety is paramount. New digital tools can help planners follow best practices and create successful events.