Hospitality Technology: Trends and Developments Shaping the Industry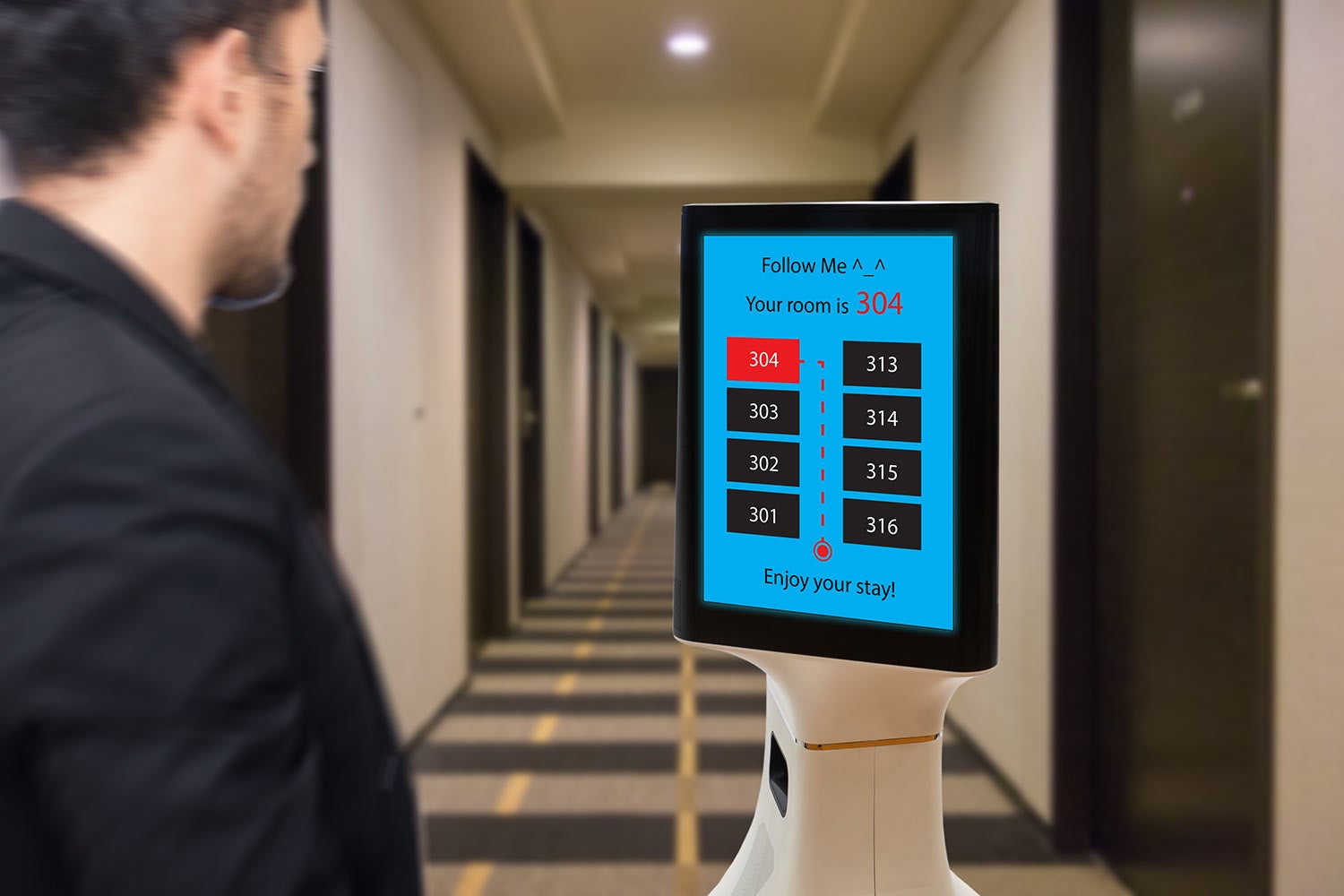 Hospitality is an influential industry that's generating record revenue in the United States and across the world. In 2017, the U.S. hospitality industry created $1.6 trillion in economic output, according to the International Trade Administration. Additionally, the global hotels market was valued at over $147 billion in 2018 and is expected to be worth $211.54 billion by 2026, based on a report from Zion Market Research.
While travelers and tourists have contributed to the industry's strength and resilience over the decades, technology has enabled the industry to grow and evolve with the introduction and adoption of new products and services. Comforts such as air conditioning, electronic keycards, broadband internet and Wi-Fi networks have brought new levels of sophistication to hotels and resorts. The arrival of travel-booking websites has provided consumers access to affordable fares for flights and lodging and may even spark the desire to travel in the first place.
These tools and devices have reshaped the travel landscape, and new and upcoming technologies look to do the same over the coming years. For current and aspiring professionals in this exciting industry, such as those participating in the University of Central Florida Hospitality and Event Management degree programs, they'll need to understand the hospitality technology trends that are currently in use and those predicted to appear in the near future.
Importance of Technology in the Hospitality Industry
Technology has always been pivotal to the hospitality industry, for tourists and guests as well as staff and owners.
Early Hospitality Technology
In 1894, one of the first adoptions of hospitality technology occurred when the Netherland Hotel in New York City introduced the first in-room telephones. In 1910, in-room bathrooms were introduced at the Goring Hotel in London. That same year, electricity was becoming standard at hotels.
In 1947, in-room TVs were first introduced at the Roosevelt Hilton in New York City — a sign of future entertainment trends in tourism and hospitality. From the late 1940s to 1950s, there would be breakthroughs in hotel-reservation technology. In 1947, Westin created the original hotel reservation system, where machines enabled guests to receive immediate notice that their requested room had been reserved in their name. In 1958, Sheraton introduced an automatic-reservation system, the first of its kind in hospitality.
Hospitality Electronic Advancements
In the 1970s, innovative hotels found new ways to enhance in-room TVs. The Sheraton Anaheim was the first hotel to include free in-room movies, and then two hotels in Florida began offering free HBO and other premium cable offerings.
The 1970s saw the introduction of a pivotal piece of hotel technology still used today: the electronic keycard. Initially developed by a Norwegian named Tor Sornes, the first model was a plastic card containing 32 holes, which could be formed into unique patterns for each guest. Sornes would continue to work on the keycard until selling an electronic version in 1978.
Hospitality Goes Digital
The hospitality industry was revolutionized by the internet as it came into wide use in the late 1990s and early 2000s. In 1995, Holiday Inn became the first hotel to offer online reservations. The hospitality industry also adapted to the rise in popularity of smartphones in the late 2000s and early 2010s. Hotel chains, as well as third-party booking organizations, understood the importance of technology in the hospitality industry and unveiled apps that performed tasks such as making reservations and making special requests with hotel staff, all from digital devices.
While it's hard to imagine a time without in-room phones, TVs and bathrooms, each one of these advancements was made possible by industry leaders who understood the importance of adopting and adapting to new technology.
National Hospitality Technology Trends
Resorts and hotel chains use technology to offer efficient guest experiences and improve their business functions in various ways. Across the country, there are some emerging and popular technology trends that are improving the hospitality experience.
Digital Self-Check-in Service
Instead of guests waiting for hotel lobby check-ins, they can use digital self-check-in services to register with the hotel and get their keys. For example, in Las Vegas guests at Caesars Entertainment Corp. hotels can use electronic kiosks at their hotels to check in without waiting in line. Guests must present necessary information, such as valid ID (driver's license, passport, etc.), a credit card for incidentals, and a confirmation number for their reservation. They can use the kiosk to conveniently make adjustments to their reservation and get keys and even directions to their room.
Keyless Entry
While some hotels give guests the ability to obtain room keys through kiosks, other resorts are enabling tourists to access their room through smartphones. Using Bluetooth technology, guests can access and enter their hotel room that is linked to a key on a smartphone. If guests lose or damage their phone, the hotel offers plastic cards instead. Travelers can go to their room without obtaining a key from hotel staff or kiosks.
Voice Command Services
Some hotels are turning to Amazon's Alexa devices as an innovative means of providing guests a more comforting hospitality experience. Announced in 2018, these customized Alexa devices enable guests to request housekeeping and order room service and a slew of other items, all by speaking commands. Guests can receive specific information about the hotel and its services through Alexa, such as restaurant reservations and spa bookings. Alexa devices within hospitality organizations can have their recordings deleted daily, and hotels themselves aren't able to access guest recordings.
International Hospitality Technology Trends
U.S. hotels aren't the only hospitality organizations adopting new technology to hospitality facilities. International hotels and resorts are also finding ways to innovate the guest experience through digital means.
Robots
In 2015, the Henn Na Hotel opened in Tokyo, Japan, with a staff consisting largely of robots. Instead of greeting human staff at check-in, guests met with robotic dinosaurs, while other robots assisted with concierge service, luggage transportation, and other services. However, half the hotel's robots were "laid off" in 2019 after failing to make things easier on guests.
Even though the hotel faced issues with its hospitality robotics, international resorts have still found robots to be an important technology in the hospitality industry. For example, guests who stay at a YOTEL, a brand of smart hotels, may be tended to by a robot butler, and customers who eat at Beast and Butterflies in the M Social Singapore can order an omelet that's prepared by a robot.
Smart Hotels
Many hotels give guests limited adjustments to their hotel room settings. But smart hotels are enabling guests to add a more personalized touch to their experience while enjoying more digital comforts.
Some hotel chains, such as Hilton, give users mobile apps that send a digital "do not disturb" signal to staff. Others, in an effort to save energy, require guests who want to use the room's services to insert their keycard into a slot. Across the globe, hotels are finding ways to reshape conventional guest experiences through technology.
Advanced Security
Some hotels are using technology to improve guest comfort and to provide a more safe, secure experience. In the United Arab Emirates, Aloft Dubai South uses an advanced video surveillance system composed of state-of-the-art cameras to completely monitor the entire facility (except for the rooms themselves) from the ground ceiling to the roof, according to Security magazine.
Florida Hospitality Technology Trends
Home to world-famous theme parks and beautiful beaches, Orlando and the state of Florida have remained popular tourist destinations for decades. This has helped transform the Sunshine State into a hub for hospitality innovation.
Podcasting
The Florida Podcast Network has turned to the power of audio storytelling to inform tourists and travelers of the state's offerings. Some of the Florida-centric podcasts include a show about the state's craft beer scene and episodes of individual podcasts may focus on a particular city or Florida lifestyle trend. Through this network, Florida residents can discover more about their state, and travelers can learn of activities and destinations to visit.
Mobile Apps
The official Florida State Park app provides users information about state beaches, campsites, upcoming events across the state and more. Users can discover notable landmarks and sites and partake in fun GPS tours.
For those who are visiting some of the famous theme parks in Orlando, they can enhance their experience with the help of mobile apps. Guests can use the My Disney Experience app to perform tasks such as finding out information about wait times and accessing photos from rides. The Universal Orlando Resort app offers similar functionality, including the ability to order food from restaurants and act as a virtual wallet.
Advanced Digital Amenities
The Aventura Hotel at Universal Orlando Resort provides guests with an in-room tablet that can be used to check room charges, adjust the temperature, set an alarm and other tasks. Inside the hotel is a virtual reality gaming room for guests.
Over at the Walt Disney World Resort, guests can use MagicBand technology to make their visit more convenient. MagicBands hold information for the wearer's My Disney Experience accounts and can enable them to do things such as enter the parks, open the door to their hotel room and purchase merchandise.
The Future of Hospitality Technology
As more and more tourists travel to the state every year, Florida has turned to technology to find innovative ways to deliver more comfortable, memorable experiences to these guests. The Sunshine State isn't just a home for tourists but a bustling hub of hospitality technology. Students in the UCF Hospitality, MS and Event Management degree programs have the opportunity to become makers and doers within both hospitality and technology.
Dr. Wei Wei, assistant professor at UCF's Rosen College of Hospitality Management, noted the unique benefits of pursuing a degree in hospitality management. "The modern consumer's experience is greatly shaped, if not transformed, by a wide array of emerging technologies," she said. "In recognition of this worldwide trend, the degree programs and the curriculum offered by the Rosen College represent a timely initiative to provide students with innovative knowledge, resourceful faculty, and international collaborations to gain competitive advantage in the area of hospitality technology."
Learn more about UCF Online's Hospitality degrees today.
---
Online Hospitality Degrees at UCF
---