Sustainable Event Management: Definition, Examples and Resources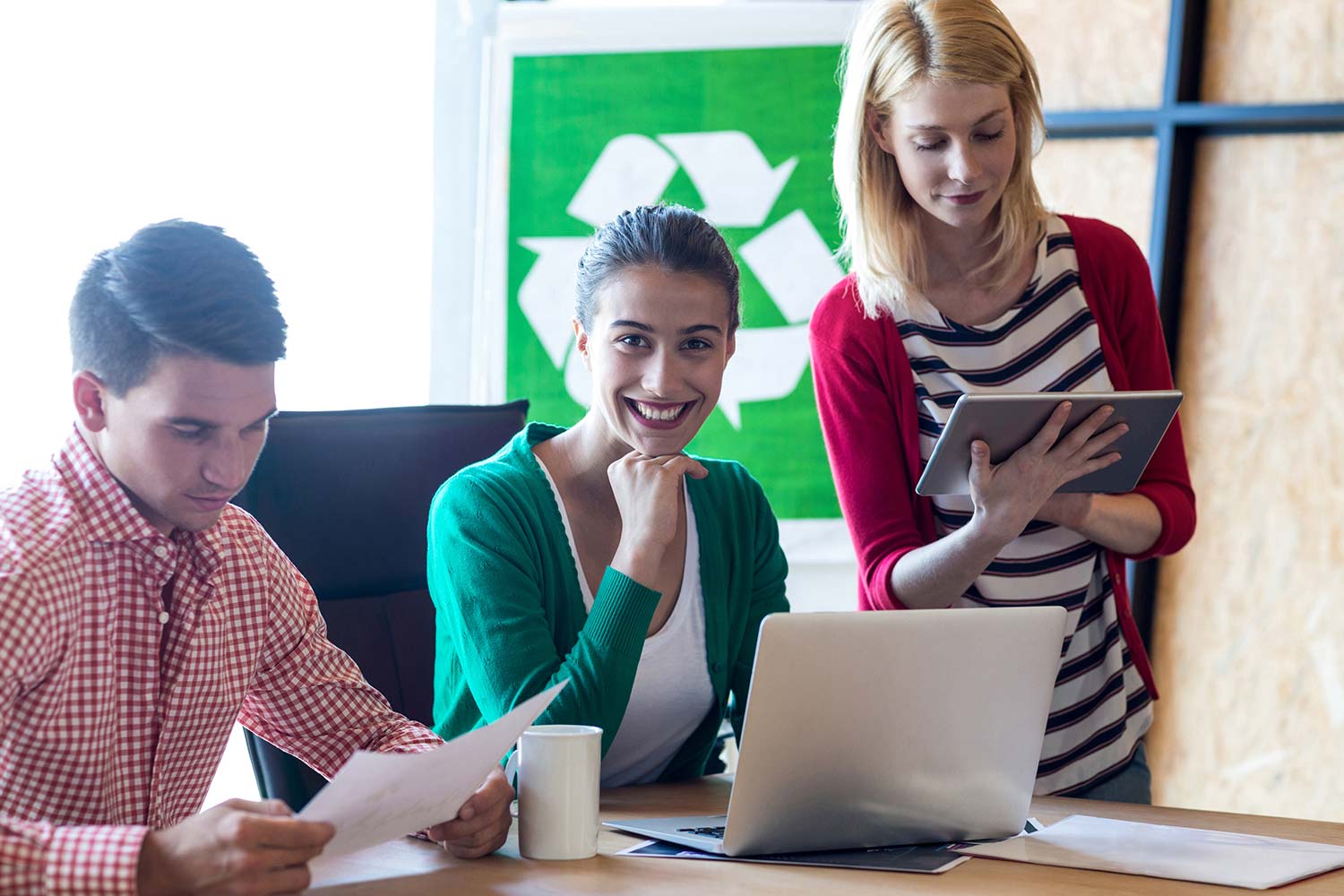 Major events can have a large impact on the environment, such as waste generated by plastic utensils and the extensive use of electricity to power stages, lights and speakers. And although not immediately visible, carbon dioxide from fossil fuel-powered vehicles driving to and from events can negatively impact the atmosphere.
But not all large events have to result in a detrimental effect on the environment. Through a practice known as sustainable event management, organizers of events large and small can find processes that protect the environment while creating an experience that attendees will enjoy.
As modern society becomes more environmentally conscious, sustainable event management will likely grow in popularity as well by offering rewarding opportunities for individuals who can create and organize sustainable events while looking to make a positive difference in the world.
What Is Sustainable Event Management?
Sustainable event management is a collection of tools, processes and procedures that event organizers and operators use to make events greener. This can include a film festival offering free shuttle service and bike parking to reduce the number of car commuters and their resulting CO2 emissions, or a food festival serving items in biodegradable containers that won't be sent to the landfill. It can even include event organizers sending encouraging messages to followers on their social media pages asking them to consider their waste output and environmental impact before, during and after the event.
According to the Event Manager Blog from Skift, a travel news and media company, this type of sustainability doesn't have to be inconvenient, and can actually help to increase profit and attendance. "For instance, someone might really want to attend your event but the travel distance or cost might make it impossible. If you can offer a virtual ticket this can increase your event reach and keep everyone happy," according to the post.
Some of the additional benefits provided through sustainable event management, according to the Event Manager blog, are decreased risk to brand image, ability to attract new staff members, ability to improve long-term success, and deeper connection with attendees and the larger neighborhood where the event is being held. Attendees and partners may be more willing to work with an event or organizers that prioritize sustainability versus those who do not.
When choosing to make an event sustainable, organizers need to carefully consider which environmental and green areas or goals they wish to pursue. The Event Manager blog suggests identifying goals and scopes early. For example, if organizers of a music festival wanted to make the event more sustainable, they could question what ways they could make it sustainable, as well as if they want to tackle a specific portion of the festival itself (such as offering recyclable dining materials in one section of the festival) or throughout the entire event itself.
The blog also recommends not to confuse or mix up sustainability efforts or responsibilities with other partners, to engage in strong communication with waste managers, ensure that all the necessary sustainability equipment and materials have been gathered and provided, and that strong and diligent efforts are displayed in the data collection and reporting process regarding said sustainability efforts. For example, if event organizers wanted to make the entire event 100 percent waste free, they'd need to delegate and communicate responsibilities effectively, provide necessary materials and equipment, and effectively report on the achievements displayed in such efforts.
Examples of Sustainable Event Management
There isn't just one method or one way in which sustainable event management can be practiced or achieved. Depending on the size, scope and nature of the event itself, event organizers can use many methods to lessen their impact on the environment.
Organized Waste Management
The Waste Management Phoenix Open is an annual PGA tournament held in Arizona. According to a 2016 sustainability report of the event, in 2012 organizers "launched the Zero Waste Challenge to control event materials and educate attendees so no waste is sent to the landfill. Since then, there have been no trash bins on the golf course; only recycling and compost bins." The sustainability report also noted that organizers "diverted 100% of all tournament materials from the landfill."
In 2018, the Waste Management Phoenix Open had the largest attendance of any PGA Tour event that year with 719,179 attendees. This shows that alternative, green-friendly waste disposal methods can be successful ,even for a major four-day sporting event attended by hundreds of thousands of fans, and that they need not result in a negative impact on attendance or sales.
Consolidated Transportation Services
Lollapalooza is a major music festival held each year in Chicago's Grant Park. The park is adjacent to a large urban area. Considering that "burning one gallon of gasoline creates 20 pounds of CO2," according to the Center for Climate and Energy Solutions, all those attendees driving can add up to a lot of CO2 emissions. However, Lollapalooza organizers embrace a strong sustainable event management philosophy and take initiative by encouraging attendees to take a "low-emission" route to the festival, such as by carpooling, biking and using public transportation, according to the festival's sustainability page.
Lollapalooza also partners with an organization called Green Mountain Energy to reduce CO2 emissions across the event venue from items such as purchased electricity and event generators. For past festivals, Green Mountain Energy has provided "energy fan tags." Concertgoers purchase one of these fan tags for a small price when buying their tickets. That money is donated to a methane-capture project located in Pierson, Michigan, helping to lower their overall pollution impact.
Partnerships with Eco-Friendly Businesses and Organizations
As the Lollapalooza example illustrates, partnerships with eco-friendly businesses and organizations can help event organizers in their sustainability efforts. The Great American Beer Festival held every year in Denver has an extensive sustainability program that has been recognized by the City of Denver.
The festival works with several partners to make its sustainability efforts as successful as possible. From its website: "We continue to realize strategies that lower the environmental impact through waste reduction, resource recovery, energy use and education. Partnerships with ZeroHero, Freeman Exhibit Services, Colorado Convention Center, Centerplate Catering, and the Colorado Carbon Fund help us realize our yearly goals." Some of the sustainability initiatives included reusing materials such as signage and carpeting, serving food with compostable plates and utensils, and coordinating waste disposal efforts to avoid diversion to landfills, so that materials are reused, recycled, or composted as much as possible, according to the festival's website.
Trade Shows
A single trade show can attract thousands of attendees looking to discover trends and connect with other professionals in their industry. Unfortunately, these events tend to create large amounts of physical waste. Dr. Deborah Breiter, professor at the University of Central Florida's Rosen College of Hospitality Management, noted that "many show managers are successfully diverting tons of waste from landfills." According to Breiter, Coverings, a major North American ceramic tile and natural stone industry event, "routinely donates tons (in actual weight) of materials to organizations like Habitat for Humanity, rather than have the exhibitors ship them back home or send them to the landfill."
There is also potential to alleviate traffic and transportation issues associated with high-volume trade show events. "Many show managers choose their destinations according to who has good public transportation systems so that attendees have the option of using public transportation instead of renting cars or using ride-hailing services," she said. "They also like destinations that have hotel rooms within walking distance of the convention center, if the event uses multiple hotels."
Tools, Resources and Strategies for Sustainable Event Management
Some events have maintained strong sustainability programs over the course of several years. For organizers thinking about starting their own sustainable event management plan or considering improving an existing one, the following resources can prove helpful:
Mobile Apps / Digital Tools That Can Reduce Paper Usage
From printing contracts to posting flyers and dozens of other potential uses in between, paper can be one of the largest sources of waste before and during an event. Thankfully, digital tools can help to significantly reduce the amount of paper that organizers and attendees use.
Digital document-signing tools and apps, such as DocuSign and eversign, can allow for crucial paperwork to be reviewed and signed without a form ever having to be printed. Social media platforms, such as Facebook, Twitter and Instagram, are also effective methods of reaching a digital audience, instead of relying solely on the distribution of printed materials. Organizers can also consider taking their paper-reduction efforts one step further by encouraging attendees to access information and programs for the event from an online resource, rather than distributing physical copies at the event itself.
Biodegradable Cups and Plates
From the snack vendors at a county fair to the desserts being served at a company holiday party, many events incorporate food and drinks. But regardless of the size or scope of the event, organizers can reduce the event's impact by purchasing and using environmentally friendly cups and plates.
Amazon.com has a wide variety of compostable plates that can be purchased and used at events. For larger events that may be attended by a wide audience, organizations such as Eco-Products and Green Paper Products offer environmentally friendly plates, cups, containers and more.
Energy Conservation Before, During and After an Event
In a blog post for the Alliance to Save Energy, writer Recel Lazarte notes how event organizers have used carbon-neutral energy and solar-energy methods to reduce their environmental impact. For smaller events, installing solar panels or only using carbon-neutral energy may not be realistic, but there are still methods that can help organizers to save energy. EnergySage lists 10 different ways and methods in which individuals can conserve energy. Many of these strategies can also be applied to events, such as replacing light bulbs, purchasing/using energy-efficient appliances, and insulating the venue where the event is taking place.
Additional Guides and Resources
The Events Industry Council provides a helpful list of principles that organizers can follow when planning and executing their sustainable events. The International Organization for Standardization has also released helpful information regarding sustainable event management.
The Future of Sustainable Event Management
As society becomes more aware of growing environmental concerns, the need for sustainable events will only increase. And as technology continues to evolve, this will generate more opportunities for event organizers to make their events sustainable. The modern professional who understands sustainable event management and possesses the necessary skill set to make events sustainable will be able to succeed as this industry grows. Explore our online hospitality degrees and learn how you will graduate prepared to make positive impacts on our environment through sustainable event management.
---
Online Hospitality Degrees at UCF
---