VR Theme Parks: Revolutionizing Amusement Hospitality by Enhancing Visitor Experience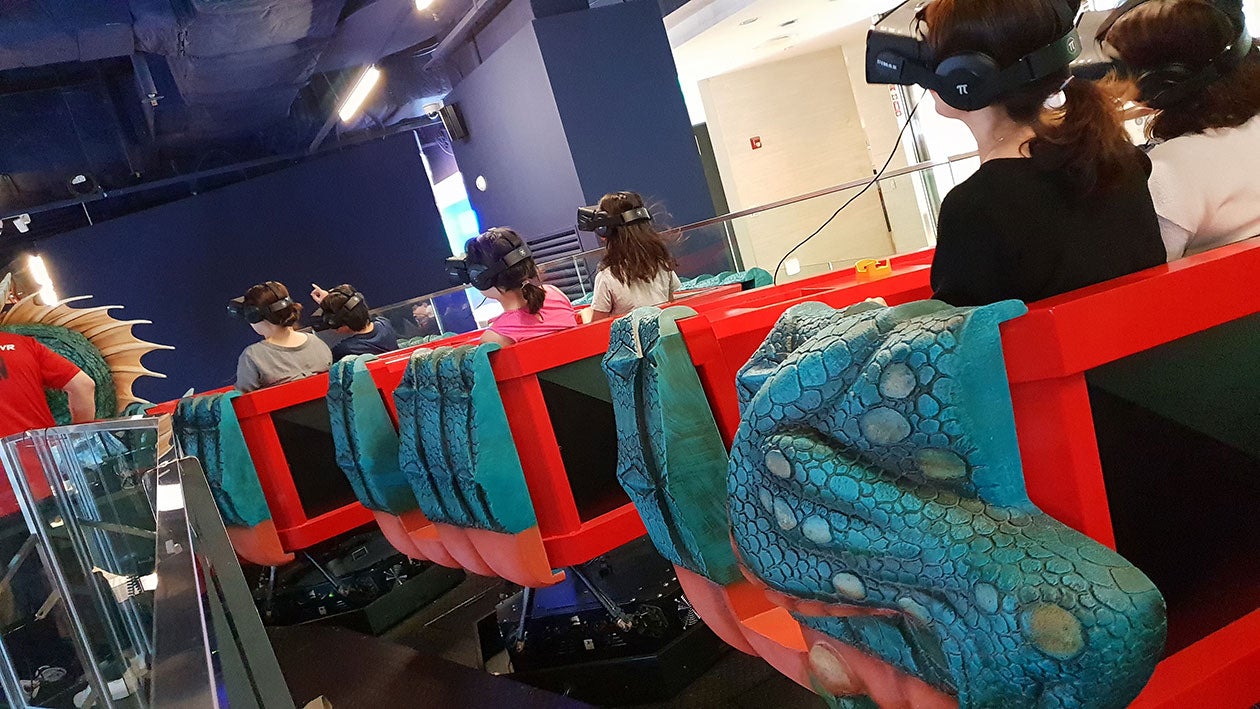 The technological innovation of virtual reality has changed the landscape of the theme park industry. Theme parks are incorporating VR into their existing attractions and developing VR stand-alone rides. Traditional theme parks are investing millions of dollars into VR technology to promote attendance, while other organizations are investing billions of dollars to develop dedicated VR theme parks.
The drive to increase VR tourism is affecting various trends in both marketing and hospitality, which is opening new career opportunities for those interested in a hospitality career.
What Is a VR Theme Park?
VR theme parks and attractions use virtual reality technology to provide tourists with a unique and thrilling experience; one that is different from previous iterations of theme park attractions. In 1998, Disney Regional Entertainment opened DisneyQuest—an interactive VR theme park—in Orlando. DisneyQuest was innovative because it housed Disney's earliest iterations of VR theme park attractions in a 100,000 square foot space with rides such as Aladdin's Magic Carpet Ride and Mighty Ducks Pinball Slam. The space was closed in 2017 to make way for an NBA attraction.
Theme parks began utilizing virtual reality technology with existing roller coasters, water slides and drop towers. Riders are given VR headsets that have LED screens. These headsets place riders in a virtual world that corresponds to the movements of the attraction. In 2003, the first VR rollercoaster—Galaxie Express—was developed at Space Center Bremen in Bremen, Germany. One of the oldest operating VR rollercoasters is Alpenexpress Coastiality, which opened in 2015 at Europa-Park in Germany. The ride originally incorporated Samsung Electronics Gear VR headsets to provide an exciting, technology-based sensory experience.
In 2018, Europa-Park opened the first "roam and ride" VR rollercoaster—Eurostat Coastality. The attraction begins with riders putting on a VR headset and exploring a virtual reality world based off the film Valerian and the City of a Thousand Planets. Without taking off their VR headsets, riders are then led to the actual rollercoaster and strapped into the train. Once all passengers are safely strapped in, the ride begins.
The integration of VR technology to existing attractions proved to be a less expensive way for theme parks to entice thrill-seekers to visit their venues. However, other theme parks decided to implement VR technology as stand-alone attractions. Knott's Berry Farm in California developed an attraction called VR Showdown that enables multiple players to work together to save "Ghost Town" from robots. Players are given a VR helmet, headphones and laser gun to explore a steampunk-themed world and gain points by shooting robot enemies. The stand-alone VR experience was developed for Knott's Berry Farm by VR Studios with the goal of providing new attractions to visitors and driving sales.
While most theme parks are using VR technology on existing rides or stand-alone experiences, the industry is seeing a shift towards fully dedicated VR theme parks. In 2018, China opened one of the first VR theme parks in the world. It's called VR Star Theme Park and is located in the Guizhou province. The park hosts over 40 VR-focused rides, from stand-alone attractions to more traditional theme park rides with a VR overlay. The price tag to build the park was over $1.5 billion.
A VR theme park in Dubai is the world's largest and provides a multitude of interactive VR experiences. The park has teamed with American television and film companies to provide visitors with branded VR attractions, such as The Walking Dead Outbreak and the John Wick Chronicles.
Until VR technology becomes cheaper, there will be a limit to the number of VR theme parks that can be successful in the United States and Europe. As the price of VR technology decreases, VR theme parks should become more prevalent in the industry. VR theme parks are challenged with technological efficiency, hygiene, and addressing the issue of motion sickness related to the VR experience. As VR technology and VR attractions are evolving these issues will surely be addressed.
The Walt Disney Co.'s Disney Accelerator, a mentorship program for organizations that exhibit cutting-edge technology, has been supporting companies like THE VOID to push the boundaries of VR technology. In 2017, Disney teamed up with THE VOID to develop a Star Wars attraction, The Secrets of the Empire, with locations in California and Florida. The attractions create a VR experience that utilizes physical sets to provide a unique experience for visitors. The evolution of VR technology and attractions is providing an atmosphere for tourists that is as exhilarating as traditional theme parks.
VR Theme Parks and Tourism
To provide visitors with a unique experience, theme park operators are investing in more VR technology. In fact, the lifestyle team of the website, The Week, attended the International Association of Amusement Parks and Attractions (IAAPA) Expo in Orlando. The purpose was to conduct a study on the implementation of VR technology on existing roller coasters. The team analyzed 23 roller coaster manufacturers in Europe and concluded that eight of those manufacturers had implemented VR technology into at least one of their operating roller coasters. Based on their study, it appears that VR technology is already an important and growing factor in the future development of theme parks.
Though the development of VR theme parks is still in its infancy, the success of China's VR Star Theme Park and Dubai's VR Park proves that the technology represents the future of the theme park industry. Investors are clamoring at the chance to invest in VR theme parks. The private Chinese investment firm, Shanda Group, invested $350 million for the development of VR Star Theme Park.
According to the customer engagement technology company, Omnico, 89 percent of theme park visitors who were studied stated they would favor VR attractions to get more out of their theme park experience. Chinese visitors were the most excited about the integration of VR technology, with 98 percent saying they would prefer integration. According to the study, 42 percent of American visitors wanted to see VR technology implemented into rides.
Complications of VR Technological Integration
The theme park industry originally saw VR technology as a cost-effective means to revitalize existing attractions. In 2015, companies such as Six Flags began using VR technology as an overlay to their existing steel roller coasters. It soon became apparent, however, that there were many complications with implementing VR technology on the rides.
Because of the amount of time it took to outfit riders with VR headsets, wait times and lines began to increase. There were also issues with the visuals in the headsets not syncing with the physical experience of the ride, which caused many riders to suffer from motion sickness. Moreover, companies had to train employees how to set up the VR systems and ensure that all headsets were clean. This proved not to be cost-effective, so new systems had to be put into place.
Busch Gardens in Williamsburg, Virginia, set out to solve these problems by developing a two-part headset for the ride Battle for Eire. The park hired Falcon's Creative Group to
develop this new technology, which allowed guests to be fitted with a headpiece while waiting in line.
As guests entered the theater, they could easily clip on the VR display to their headsets. This decreased wait times and provided a more sanitary environment, which meant employees spent much less time cleaning the gear. Falcon's Creative Group and Busch Gardens used innovative thinking to create an attraction that was built around VR.
According to TEA/AECOM Global Attractions Attendance Report, 2018 saw more than 252 million people visit the top 25 theme parks in the world. To sustain these numbers, it is critical that these and other theme-park companies continue to develop innovative attractions — specifically those that leverage advanced VR technology.
The Future of Hospitality:
Many industry professionals believe VR technology is the future of entertainment for visitors seeking thrills. VR theme parks and amusement parks are not the only sectors that are integrating the technology, however. VR is currently being used by travel agencies, shopping malls and clothing retailers to provide visitors and tourists with exciting attractions. The clothing retailer, Topshop, integrated a VR experience called SPLASH! at its flagship store in London. Riders are given an Oculus Rift VR headset that simulates a waterslide adventure through London's Oxford Street.
VR technology has expanded opportunities in the hospitality field for those who are looking for leadership roles in the industry. The development of new VR theme parks will require staff that is technically trained to provide visitors with the best VR experience. This growing need for hospitality management professionals is also seen at theme parks that are working to integrate VR technology into existing attractions. As tourism increases to VR theme parks, it stands to reason that organizations will need to hire more hospitality management professionals.
Discover a Rewarding Career in Hospitality
Professionals who are interested in learning how VR theme parks will shape the future of the hospitality industry may choose to pursue a degree in hospitality management from the University of Central Florida. Students pursuing the degree can elect to pursue the Theme Park and Attraction Management Track that provides a specialized curriculum — Product Development in Theme Parks and Attractions, Risk Management in Theme Parks and Attractions, and Operational Issues in the Theme Park and Attraction Industry—giving students the opportunity to complete educational projects at one of the major theme parks in the area.
For UCF students that are not Hospitality Management majors, UCF's Rosen College of Hospitality Management offers those interested in the field the opportunity to pursue the Theme Park and Attractions Management Certificate, which offers a similar curriculum to the Theme Park and Attractions Management track.
The university is near some of the world's most popular theme parks, including Walt Disney World, Universal Studios Orlando and Sea World. According to CNN Travel, Florida is home to 6 of the top 25 world's most visited theme parks, which makes it an ideal location for pursuing a career in amusement hospitality. Acquiring a degree in hospitality is an excellent way for students to gain the knowledge and skills to assume leadership positions in the amusement-hospitality sector. Discover how the University of Central Florida's online hospitality degree programs prepare students to excel through a robust curriculum that covers different aspects of the industry.
---
Online Hospitality Degrees at UCF
---