If you're considering pursuing a doctoral program in nursing, should you enter a PhD program or a DNP program? Both are doctoral degree programs that will allow you to advance your knowledge of the nursing field, but they offer unique career opportunities including nursing education, research, advanced practice nursing, or leadership. Keep reading to determine the best nursing program for you depending on your career aspirations!
What is a DNP Degree?
A DNP nursing degree stands for Doctor of Nursing Practice. It's a degree that allows you to advance your clinical practice skills while furthering your nursing education. A DNP degree is a terminal degree, which means there's no direct advanced training you can receive after finishing this degree. You could choose to return to pursue a nursing PhD, but a PhD is the same degree level as a DNP degree.
Unlike a PhD which focuses on research, students pursuing a DNP degree receive additional education in evidence-based practice methods, quality improvement, and systems leadership, among other areas.
At UCF, we offer three DNP degree programs:
How Long Does it Take To Get a DNP Degree?
A DNP degree is the end of a long educational path for a nursing doctoral student. Nurses typically start by obtaining their RN license through either an Associate of Science in Nursing (ASN) degree or a Bachelor of Science in Nursing (BSN) degree. Getting an ASN degree typically takes two years, while a BSN degree takes four years to obtain.
After receiving their degree and beginning to practice nursing as an RN, nurses seeking to obtain an DNP can continue to go to nursing school with two options.
First, they can first pursue a Master of Science in Nursing (MSN) degree. An MSN degree can take anywhere from one and a half to four years to complete, depending on whether nursing students are pursuing the degree full- or part-time and their level of education upon entering the program. RN to MSN programs and direct-entry MSN programs (MSN programs for nurses with a non-nursing bachelor's degree) take longer, while BSN to MSN programs may only take one and a half to two years. A nursing professional with an MSN degree can work as a nurse educator or a nurse practitioner, among other career options. After completing an MSN degree, students can return to school to complete a post-MSN DNP program. Those programs generally take two to four years to complete beyond the MSN degree.
A second option is BSN to DNP programs, which skip the MSN degree. These programs typically take three to four years to complete. Additionally, 1,000 post-BSN clinical hours are required for any nurse obtaining a DNP degree.
The option you choose depends upon the career path you wish to pursue. For example, to become a nurse practitioner, you would choose a BSN to DNP program. For other career goals, it may make more sense to pursue your DNP degree by first obtaining an MSN degree.
How Long Does it Take To Get a DNP Degree?
Nurses with a DNP degree have access to a wealth of advanced nursing roles and positions, including clinical and non-clinical roles. Nurses wanting to continue their clinical practice might have jobs including nurse practitioners, nurse anesthetists, or nurse midwives. They might be primary care providers or specialty providers, and they can provide evidence-based practice in inpatient or outpatient settings. Typically, nurses continuing to work in clinical settings at this level have a lot of autonomy, and they don't require much supervision from other healthcare providers due to their strong clinical knowledge base.
Non-clinical roles in the nursing field could include a career in nursing leadership, administrative nursing, or education. They might be a nursing instructor, Chief Nursing Officer, or nursing home administrator, or they could go into public health nursing. While they may still work in a clinical setting, like a hospital or clinic, their job duties will be non-clinical. DNP nurses could also work in a variety of settings that aren't clinical, including for a health insurance company, pharmaceutical company, or medical supply company.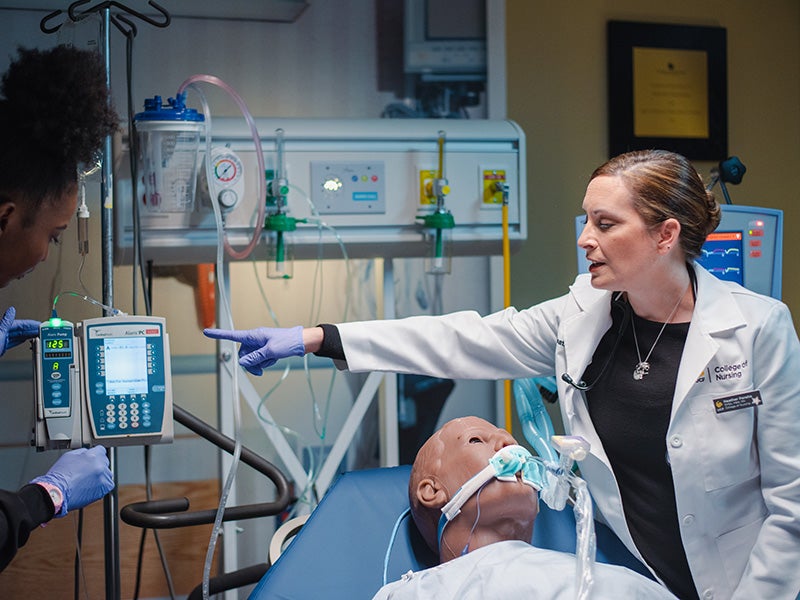 What is a PhD in Nursing?
Like DNP programs, a nurse PhD program is typically pursued by a nurse who has already obtained their MSN degree. It can take four to six additional years of schooling to get a PhD in nursing degree. Unlike a DNP program, however, a PhD in nursing program doesn't require clinical hours, so students can take courses full time if they're looking for a shorter path to get their degree.
Some programs, including UCF's online nursing PhD program, offer a BSN to PhD option that allows nurses to obtain their PhD in nursing without completing an MSN program first. This can also help an aspiring nurse scholar to obtain their PhD and start a fulfilling career in the field of nursing as quickly as possible in as little as four and a half years.
What Does a Nurse Do With a PhD?
A PhD-prepared nurse has a variety of career options available to them. Typically, nurses with their PhD don't work in clinical settings. Instead, they might work in a leadership role at a university, in a laboratory, in public policy, or for a research institution. Due to their vast knowledge in nursing, these nurses might work as nurse scientists, nurse researchers, nursing professors, or in governmental positions. There are many career paths available to PhD-trained nurses, but some typical job responsibilities for these nurses include teaching, research, and writing proposals and health policy.
DNP vs PhD Career Opportunities
The U.S. Bureau of Labor Statistics predicts that roles filled by nurses with DNP degrees will grow anywhere from 32–45% by 2029, depending on the position. Since PhD-educated nurses work so many different roles, it's difficult to quantify their expected job growth, but nursing careers across the board are in high demand. In a survey of nursing schools performed by the American Association of Colleges of Nursing, schools reported an average nurse faculty vacancy rate of 8.8%. This shortage is preventing nursing programs from accepting qualified students; in 2021 alone, 91,938 nursing school applicants were turned away due to insufficient faculty. Both DNP- and PhD-educated nurses have excellent job prospects.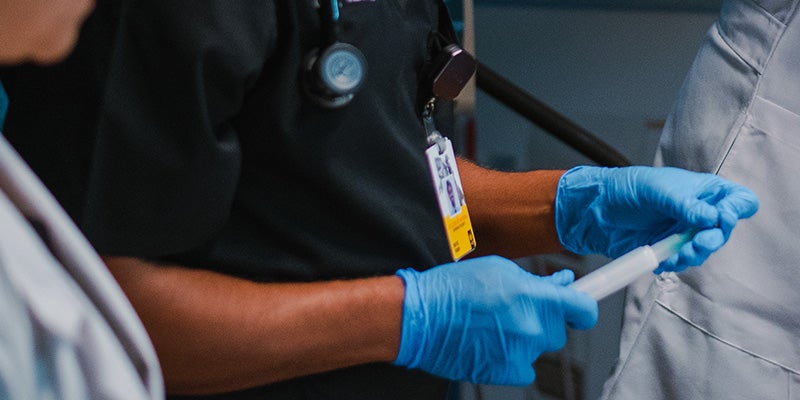 DNP vs PhD Salary
Typically, nurses with a DNP degree have a higher annual salary than those with their PhD. That's in part due to the settings in which they work; since DNPs often practice clinically and see patients, they have a higher earning capacity than nurses in higher education or governmental positions. According to the U.S. Bureau of Labor Statistics, DNP-prepared nurses make a median salary of about $123,000 per year, with nurses trained as nurse anesthetists earning the highest average salary. Nurses with their PhD who work in teaching positions earn an average of $77,440 a year, according to the U.S. Bureau of Labor Statistics. Nurse researchers earn a median wage of $81,500 a year according to PayScale.
Deciding Between a DNP and a PhD in Nursing
All nurses start in the same place—with an RN license—but where they end up varies based on the continued education they pursue. For those wanting to obtain the highest level of nursing education possible, there are two ways to earn a doctorate degree in nursing—a DNP degree program or a PhD in nursing program. Which doctoral degree is best for you depends on your career goals, clinical experience, and areas of passion.
Nurses passionate about the clinical practice of nursing may prefer a DNP degree, since clinical hours are a key element of this degree, even if they don't practice clinically their entire career. Nurses more interested in teaching, research, or changing the field of nursing as a whole may prefer a PhD track, which focuses more on scientific knowledge and the theoretical foundations of nursing. Some nurses choose to obtain both their DNP and PhD degrees in nursing, giving them greater flexibility and the most advanced nursing knowledge.
Whatever Educational Path You Choose, UCF Has an Online Program To Get You There
Our online nursing program has core courses on nursing theory, scientific writing, and healthcare research to prepare you for a leadership position in a stimulating nursing career.
For those seeking a PhD in nursing degree, UCF offers two online degree options—a BSN to PhD track and an MSN to PhD track. We welcome students with various educational backgrounds working to achieve common goals.
If you're interested in a DNP degree, UFC offers specialized options based on whether you intend to practice clinically or lead the field of nursing in a non-clinical role. Our online DNP Advanced Practice track prepares practicing nurses for engaging, rewarding clinical careers, while our DNP Nurse Executive track supports innovative, creative nursing students as they take on non-clinical leadership roles.
For students seeking to become a nurse practitioner, UCF also offers hybrid classroom-online BSN to DNP degree nurse practitioner programs in primary care, acute care, and family nurse practitioner.