When you think of a nurse, you might think of a bedside nurse in a hospital or a family nurse practitioner in an outpatient clinic. But many nurses work in a non-traditional nursing position, like nursing education or nursing administration, and these roles require a variety of different licenses and nursing degrees. Depending on a nursing student's career aspirations, they might go to nursing school to get an Associate of Science in Nursing (ASN) degree or a Bachelor or Science in Nursing (BSN) degree or they could even pursue a graduate nursing program like a Master of Science in Nursing (MSN), or Doctor of Nursing Practice (DNP), or Nursing PhD program.
An MSN is a graduate-level program for nurses looking for career growth and advancement in the nursing profession. An MSN-educated nurse will be prepared for a variety of nursing positions, including non-clinical opportunities in leadership roles, management, or jobs in nursing education and healthcare simulation.
Why Earn an MSN?
MSN-prepared nurses have advanced career opportunities compared to ASN- and BSN-prepared nurses. An advanced degree in nursing can provide you with an opportunity to use your clinical experience and critical-thinking skills in a variety of healthcare settings in roles such as nursing education, nurse leadership, and more. Even nurses who want to remain in a clinical practice setting can benefit from an MSN degree so they can provide specialized care in advanced roles.
Because MSN-prepared nurses have additional education and skills beyond nurses who completed an ASN or a BSN program, their median salary is typically higher than their less-educated counterparts, and they generally enjoy more flexible positions and advanced career opportunities.
How Do You Earn an MSN Degree?
Traditionally, a nursing career starts with either an associates or bachelors degree program. Earning your ASN degree typically takes 2–3 years, while completing a BSN degree takes 4 years. Once classes are finished and the required clinical hours have been completed, a nursing student is eligible to take the nursing licensing exam, called the NCLEX-RN exam. By passing this exam, a student nurse becomes a registered nurse, or RN, and receives their RN license.
At this point, RNs who want to pursue an advanced nursing degree can enroll in an MSN program, which is a graduate degree in nursing. In order to qualify for an MSN program, a bachelor's degree is typically required, although the bachelor's degree doesn't necessarily need to be in nursing, depending on the MSN program. MSN programs usually take 1.5–3 years to complete and can be completed while the student continues working as a nurse thanks to part-time and online degree options.
There are many different types of MSN programs depending on your current level of education and your career goals. In every type of MSN program, an RN license and clinical nursing experience is encouraged.
MSN Degree Specializations
Most MSN degree programs allow nurses to specialize in a variety of different areas depending on which career path they're interested in. For example, MSN programs may offer a nurse educator track, a nurse leader track, a nursing simulation track, or a nurse administrator track.
At UCF, we offer 3 program tracks in our MSN program:
Nursing and Healthcare Simulation, which is a education track allowing MSN nurses to lead and design nurse simulation programs in an innovative and rapidly growing field;
Nurse Educator, which prepares MSN nurses to teach nursing courses at colleges and universities and internally at hospitals and healthcare systems; and
Nursing Leadership and Management, which prepares MSN nurses to work in a variety of leadership roles as critical thinkers providing evidence-based patient care.
For nurses looking to continue their education beyond an MSN degree, UCF offers hybrid classroom-online post-BSN DNP degrees for nurse practitioners looking to specialize in family practice, acute care, and primary care. We also offer nursing PhD programs.
Obtaining an MSN degree opens up a wide variety of career options for nurses beyond a traditional RN role.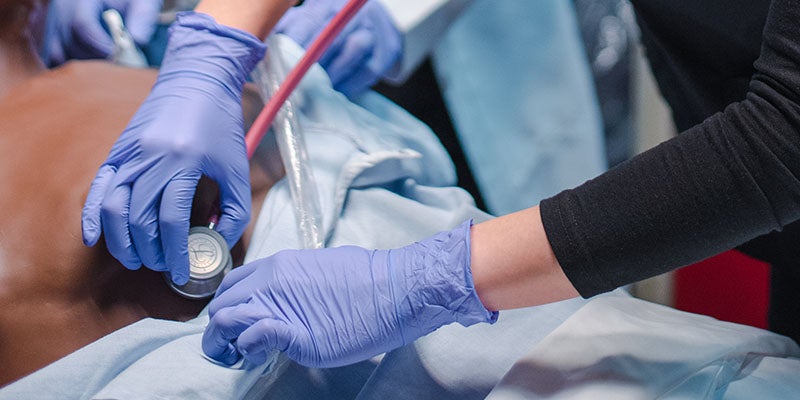 MSN vs BSN vs ASN: What are the Differences?
When it comes to deciding which degree is best for you, there's no one-size-fits-all answer. Every nurse has unique professional goals, and depending on your goals, one type of degree option may be better than another for you. The major differences between MSN, BSN, and ASN degrees are their average salary, education requirements, and career opportunities.
Remember, all MSNs and BSNs are also RNs. A BSN degree also prepares nurses to seek continued education like MSN degrees or DNP degrees. An MSN program prepares nurses for advanced clinical and leadership roles in the nursing field, including acting as a charge nurse or nurse manager.
MSN vs BSN vs ASN Career Opportunities
What are your career goals? If you know from the beginning of your nursing education that you plan to become a nurse leader or nurse educator, then pursuing an MSN degree will be necessary. If you're unsure whether you'll want to work in a clinical setting long term, then preparing yourself for higher education with a BSN degree might be a good choice.
While nurses with MSNs, BSNs, and ASNs can all practice in a traditional clinical setting, today, many employers are now requiring nurses to be BSN educated. BSNs learn more advanced practice techniques and leadership skills which can equip them to provide better patient outcomes. As such, it's easier for BSN-trained nurses to find jobs than nurses without their BSN. Even if an employer doesn't require a BSN degree for nursing candidates, they may provide incentives for nurses to further their education, including tuition reimbursement.
MSN-prepared nurses are even more competitive for nursing positions, giving them more career opportunities than BSNs or ASNs. Additionally, their advanced training allows them to access more non-clinical nursing positions in management, education, or the rapidly evolving field of healthcare simulation.
Nurses with an ASN degree typically have the least amount of career opportunities compared to BSN or MSN nurses. However, because their educational standards require less time to complete, nurses can earn their ASN and start practicing more quickly than with other nursing degrees.
Although ASNs are the least competitive, the nursing field as a whole is growing exponentially, with the U.S. Bureau of Labor Statistics estimating 9% growth by 2030. Additionally, due to a number of factors, the U.S. is currently undergoing a nursing shortage, and all trained nurses are currently in high demand.
MSN vs BSN vs ASN Salaries
Like most professions, a greater level of nursing education leads to additional opportunities and increased responsibility and provides a greater annual salary. MSNs can earn six-figure salaries, depending on their specific role. BSNs earn significantly less than MSNs, while ASNs earn slightly less than BSNs.
MSN vs BSN vs ASN Education Requirements
Pursuing an advanced nursing degree takes additional time and effort, although many programs can be completed while working, and online nursing degrees are available. Obtaining your RN license with an associate's degree typically takes two years, while earning your RN license with a BSN program can take up to four years, depending on your level of education prior to starting your program.
Since an MSN program is a graduate degree beyond a BSN degree, it takes additional time to complete. BSN to MSN programs typically take around 2 years, while ASN to MSN or direct-entry MSN programs can take 3–4 years on average.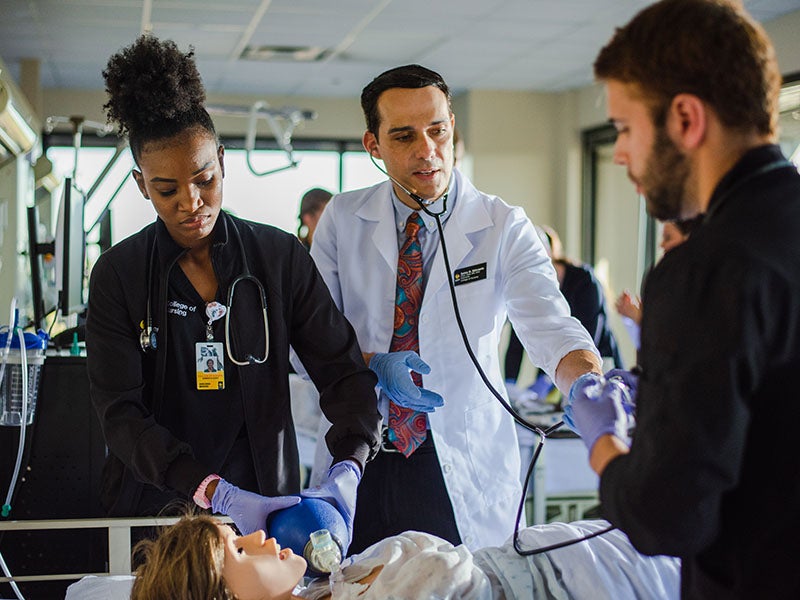 What Makes a Good MSN Nurse?
The nursing field is filled with empathetic, intelligent, and compassionate individuals with a passion for providing evidence-based care to patients. But because MSN-prepared nurses are equipped for roles beyond the clinical setting, there are some skills and personality traits that can make a nurse a particularly good candidate for an MSN program.
Curious nurses who enjoy the challenge of learning are a good fit for MSN programs, since they'll be investing additional time and resources into their education. MSN nurses should enjoy teaching, since they'll likely be overseeing the work of other nurses even if they don't pursue nursing education as their career. Excellent communication skills will equip MSN nurses for leadership positions, as will an emphasis on teamwork and collaboration. Additionally, because MSN nurses are more apt to experience independence in the workplace, they should possess self confidence, self awareness, and a high level of clinical expertise.
UCF Online's MSN Program Highlights
UCF offers admission to prospective students with ASN, BSN, and non-nursing bachelor's degrees, so no matter where you're at in your nursing education, there's a space for you. Among the best online nursing programs in the country (according to the U.S. News and World Report) and a Commission on Collegiate Nursing Education (CCNE)-accredited program, you'll receive a high-quality nursing education that's flexible and in the most convenient manner for you.
If you're looking to obtain your nursing MSN degree, look no further than UCF Online. UCF allows you to obtain your nursing degree online while you work, with online courses and support with clinical placements. With the option for degree specialization in three unique tracks—Nursing and Healthcare Simulation, Nursing Educator, and Nursing Leadership and Management—you'll be able to further your career in a variety of nursing disciplines and support healthcare organizations in the way you're most passionate about.
When you're ready to further your education and take on an advanced nursing role, earn your nursing degree online at UCF.