Amy Iarrobino always enjoyed working with children as a volunteer. So when she entered the UCF College of Medicine, the 2013 M.D. Program Academic Excellence Award-winner reached out to Central Florida children's hospitals to build partnerships for medical students to benefit their young patients.
"Orlando is a hub for pediatrics," she says. "So it was a perfect opportunity to build connections for our students to volunteer and work with the kids at the hospital"
The Pediatric Interest Group has teamed with Nemours Children's Hospital to create opportunities for volunteers to do arts and crafts, throw parties, and host other fun activities. Besides providing a positive distraction for the children, the medical students gain from the experience, as well.
"It gives you a way of engaging the children outside of the typical doctor/patient interaction where you're only talking about their medical history," Iarrobino explains. "You get the bigger picture that who you're treating isn't just another patient, but someone's son, daughter or friend."
During her career at the College of Medicine, Iarrobino also served as a founding member for the UCF student branch of the Reach Out and Read Florida program, which promotes childhood literacy, and developed a student-led initiative called Teddy Bear Clinic to teach local elementary students healthy habits.
"We worked with Moss Park Elementary School, which is near our Lake Nona campus," she says. "The first graders played doctor with their teddy bears and we had a curriculum to teach them about health and exercise. They were really smart and cute and just loved having the cool big kids come for the day."
"We're a new medical school, so the community is still forming their opinion about us," Iarrobino says. "I think it's important that we make that extra effort because the first impression means everything.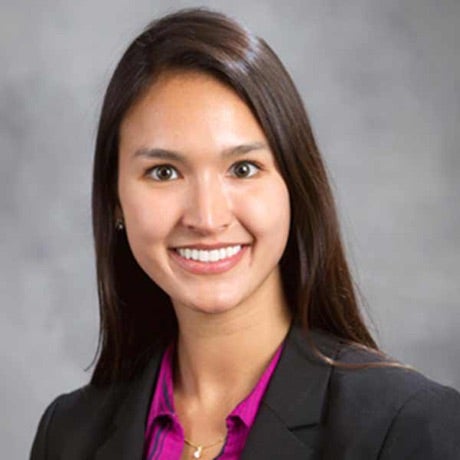 Meet Amy Iarrobino
"At UCF, I found myself surrounded by a community with an outstanding reputation, and an environment that breeds success. As a result, I have been supported in pursuit of new initiatives, such as melanoma research or a play-clinic for first graders. My dreams were articulated, emboldened and executed."
---
Hometown

Valrico, Florida

Education

B.S. in Biology from Rollins and M.D. from UCF

Accolades

Competed as a professional figure skater before entering medical school
Served as co-president of Alpha Omega Alpha Medical Honor Society
Earned the UCF College of Medicine's Academic Excellence Award
Her research on melanoma and basal cell carcinoma resulted in the publication of four peer-reviewed manuscripts that have been disseminated both nationally and internationally
Inducted into 2015 Order of Pegasus, UCF's highest student honor
Beginning her internal medicine residency at University of Pennsylvania in summer 2015
UCF Researchers are
Thinkers, Dreamers and Doers.
Get a quick glimpse into some of the latest innovative work that's leading toward a brighter future.
We unleash the potential of people and ideas to positively change the world.