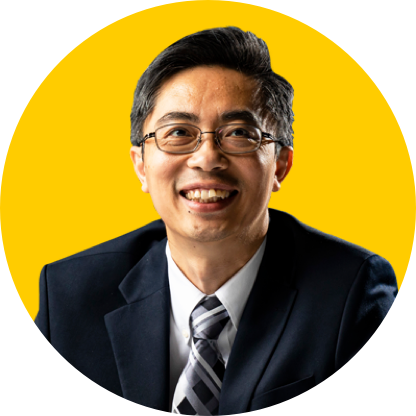 Meet Yan Solihin
"What I saw [at UCF] is a future powerhouse university in the cybersecurity field. I wanted to be a part of realizing it. What we have is a 20-year history of well-trained students going into cybersecurity careers. It's a success that separates UCF."
Yan Solihin, Ph.D.
Professor and Director of Cyber Security & Privacy Cluster
Research Areas
Secure Execution Environment
Trustworthy cloud, enclaves
Side channels (microarchitecture, timing, caches, etc.)
Memory encryption and integrity verification
Computer Architecture
Parallel and multicore architecture
Memory hierarchy and memory systems
Persistent memory
Yan Solihin has dedicated his career to the cyber race — people with good intentions trying to stay two steps ahead of "the other people." Whenever a new smart device is introduced to the marketplace, Solihin sees it as another potential cyber gap.
"You can set up a computer with antivirus software and a firewall," says Solihin, "but now a smart refrigerator could be the vulnerable point for an attacker to target."
Solihin leads the university's Cyber Security and Privacy Cluster — made up of an interdisciplinary group of researchers and scholars — which focuses its efforts on understanding and exploring existing ways to stay secure while also inventing new ones. The cluster also focuses on understanding the social implications new technology and the "Internet of Things" have on our daily lives. This research provides much-needed solutions to security and privacy challenges that may arise in business and in life.
"We live in a dangerous world and cyber attacks, such as ransomware and phishing, are increasing," says Solihin. "Hackers are looking at all of the infrastructure that we have. They will keep probing for vulnerabilities which are often found in organizations that do not have enough trained professionals to provide oversight, protection and defense measures."

Education:
---
Ph.D., Computer Science, University of Illinois at 
Urbana-Champaign
MASc in Computer Engineering, Nanyang Technological University Singapore
BS in Computer Science, Institut Teknologi Bandung
BS in Mathematics, Universitas Terbuka
Some accolades include:
---
ACM Distinguished Speaker 
from (2019-2022)
ISCA Hall of Fame (2018)
HPCA Hall of Fame (2011)
IEEE Fellow (2017)
MICRO Best Paper Runner-Up 
(2017)
Prior to joining UCF, Solihin worked as the program director of the Secure and Trustworthy Cyberspace (SaTC) program at the National Science Foundation (NSF). It was there that he realized his drive to help ramp up cybersecurity capabilities across the nation — specifically, creating a strong pipeline of talent for industry leaders. Today, he sees UCF as a powerhouse university in the cybersecurity field. From advanced cybersecurity research and academics to the national success of the university's cyberdefense competition team, Solihin enjoys having the opportunity to make a difference on the next generation of cybersecurity leaders. He also played a role in helping the university launch a master's in cybersecurity and privacy which addresses the nation's urgent workforce shortage in the field.
Solihin is an internationally recognized and published scholar in cybersecurity. He has authored more than 120 patent assets and frequently serves as a speaker at top industry conferences and seminars. As a renowned cybersecurity leader, Solihin has also received a number of accolades for his research and work, including being named an ACM Distinguished Speaker from 2019-2020, being inducted into the ISCA hall of fame in 2018, and becoming an IEEE fellow in 2017.
UCF is a Recognized Leader in Cybersecurity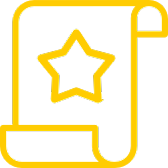 ---
Recognized as National Center for Academic Excellence in Cyber Defense Education ---
No. 1 supplier of graduates to the aerospace and defense industries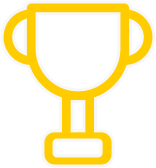 ---
Cybersecurity team has been national champs for 4 consecutive years
Orlando Cybersecurity Research Facilities
As a hub for cybersecurity research and innovation, UCF has many facilities on and around campus that further develop new groundbreaking technologies. They also provide students with the hands-on experience needed to help defend and protect our society for generations to come.
Lockheed Martin Cyber Innovation Lab
The Lockheed Martin Cyber Innovation Lab at UCF serves as a learning hub, classroom and the practice center for Hack@UCF, the university's cyberdefense club. It's also a great high-tech space where students interested in cybersecurity can go to develop their skills, grow through academic excellence, and meet others.

Search Degrees
There are many benefits to taking a more proactive approach to choosing a career. The College of Engineering and Computer Science has curriculum and programs to help you land your next opportunity.
Engineering News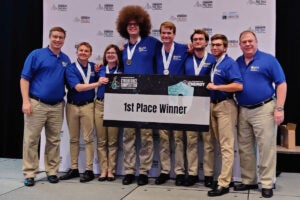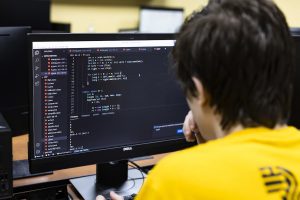 Digital Domination
Two UCF teams — yes, two teams — fill the trophy cases and rafters with proof of excellence that few institutions around the world can…