So much goes on during the first week of classes, it can be a little stressful to keep up with everything you need to know. To help you make the most out of your first week of the Fall 2019 semester, here's some information to get you through it.
Advising | Class Registration | Download UCF Mobile | Downtown Campus | Financial Aid | Food | Football Game | Involvement | Parking and Transportation | Pegasus Palooza / Welcome Week | Rosen Campus | Study Resources | Supplies and Printing | Technology | Textbooks
Advising

First Year Advising and Exploration will host a Welcome Expo, which will showcase UCF clubs, organizations and departments on Aug. 28 from 10 a.m. to 1 p.m. in the Pegasus Ballroom of the Student Union.
The office, which also serves upperclassmen with undeclared majors, will allow walk-in visits Aug. 26-30. For available times visit here. Be sure to print and fill out the walk-in intake form beforehand.
For other advising appointments be sure to check the website for your college's advising office for hours, availability and contact information.
Class Registration
Using myUCF, you can change your schedule during the first week — just keep deadlines in mind. The add/swap deadline is Aug. 29 and the add deadline is Aug. 30.
Download the UCF Mobile App
The UCF mobile app is one of the best resources for support. Here you can quickly and easily access your myUCF account, online courses, Knights email, an event calendar, emergency alerts and more. The app also helps you get around with a module that tracks the Pegasus Express shuttle in real time and another with an interactive campus map.
UCF Downtown and Rosen College of Hospitality Management students can also select their respective campuses for their app experience to get information, services and details specific to their locations.
Downtown Campus
With a new campus opening this fall, it's especially important you head to the right one.
If your class schedule shows your class is in DPAC (Dr. Phillips Academic Commons), UWCV (UnionWest at Creative Village) or CMB (UCF Communication and Media Building), then it is on the downtown campus.
The following programs have moved to the downtown campus:
Undergraduate:
Graduate:
Most of the programs in the College of Community Innovation and Education are now downtown, but criminal justice has NOT moved and those courses are still taught on the main campus.
UCF Downtown students must also get the newest version of the UCF ID in order to access buildings on campus before and after business hours. If you do not have the latest version of the UCF ID, you can turn in your old one at card services in the Communication and Media building to receive a free new one. If you do not have an old UCF ID to turn in, you will have to pay for a new UCF ID.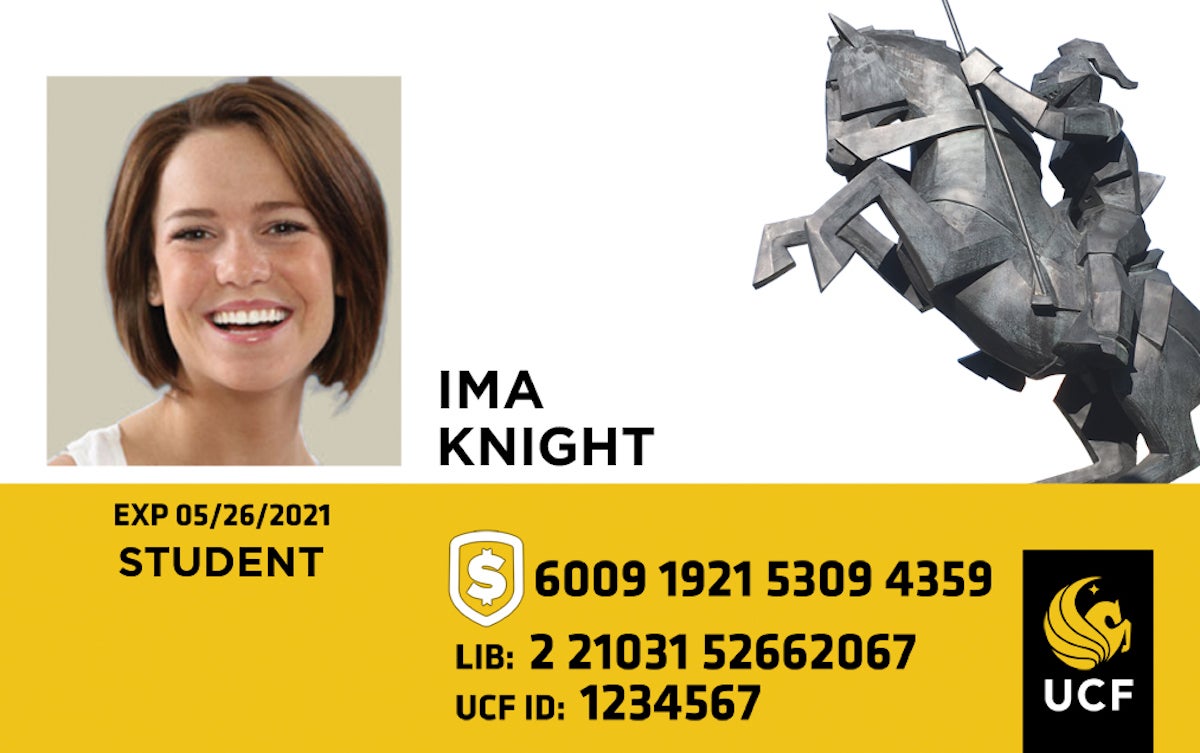 Financial Aid
For information on financial aid, read our guide here. In general, you should check your myUCF account and complete any items on your to-do list. If you have successfully completed the financial aid process you can expect your approved aid to be disbursed during the second week of classes.
It's important to complete the confirmation of academic activity during the first week so you will receive your financial aid on time.
Food
For a list of dining options on campus, including the '63 South dining hall, Chick-fil-A, and Panda Express, click here. There's also Burger U, Jimmy John's, The Pop Parlour, Domino's Pizza, Gringos Locos, Dunkin', Subway and Knightro's by Knights Plaza. There's also a Domino's in the John T. Washington Center.
Topper's Creamery by the Reflecting Pond offers $1 cones on Wednesday.
A variety of food options opening inside of UnionWest at Creative Village this fall, however they will not be open during the first week of classes. During the first week of class, you can grab a bite from on-campus food trucks, pop-up eateries and nearby restaurants.
Football Game
On Thursday, Aug. 29, UCF kicks off football season with the first game against Florida A&M University at Spectrum Stadium at 7:30 p.m. For our guide to the game click here.
Class and university operations at main, Rosen and downtown campuses and Research Park will close at 2 p.m. to allow time for game-day preparations. Campus activity and operations will resume Friday, Aug. 30 at 6 a.m.
Involvement
If you're looking to get involved on campus, you can find some starting points here. Reaching out to the Office of Student Involvement or searching the Knight Connect search engine are excellent ways to find student organizations that align with your interests.
Parking and Transportation
All parking and transportation information can be found here. One of the most important things to know is back-in parking is no longer allowed on any UCF campus. Everyone at UCF must park nose-in, tail-out, and failure to abide by this policy will result in a warning or citation. This method of parking is intended to increase campus safety and will help with Parking Services' transition to digital permits in the future.
Another major change is metered parking throughout campus no longer accepts coins. Now you must pay for parking at designated spaces by using the Passport app or calling 407-809-4834.
After you've ordered your parking permit online you can pick it up at Parking Services located in Garage B.
Pegasus Palooza / Welcome Week
The week-long annual celebration welcomes students on all of UCF's campuses to the fall semester with events such as Knight Rave, a pool party and more. It all starts Aug. 23 at 8 p.m. at the Palooza Carnival and ends with a Day of Service on Aug. 31 at 8 a.m. For more information and the full schedule, visit fye.sdes.ucf.edu
UCF Downtown students can take part in Pegasus Palooza by bringing their UCF ID to the events. There will be shuttles to take downtown students to and from the following Pegasus Palooza events:
The Knighting and Opening Knight (a welcoming event that will be also be livestreamed here), Aug. 25; departing from downtown at 2:30 p.m.; leaving for downtown at 7 p.m.
Comedy Knight featuring Pete Davidson, Aug. 26; departing from downtown at 6:30 p.m.; leaving for downtown at 10 p.m.
Concert Knight featuring Blackbear, Aug. 28; departing from downtown at 6:30 p.m.; leaving for downtown at 10 p.m.
Late Knights, Aug. 30; departing from downtown at 7 p.m., leaving for downtown at 12
There will also be a UCF-Valencia Week of Welcome held on the downtown campus with events such as a week-long scavenger hunt, esports tournament and bike-trail outing. Students who want an exclusive look at their downtown campus before classes begin are invited to join a UCF Downtown Preview Day on Friday, Aug 23 from 11 a.m. to 2 p.m. You'll be able to tour the new campus buildings and visit with student services and organizations that will be at the downtown campus.
Rosen Campus
Rosen College of Hospitality Management students should double-check their schedules to verify which campus their classes are being held. Some are offered at Rosen while others are on main campus. Also, be sure to check the shuttle schedule and traffic patterns to make sure you make it to class on time.
Study Resources
Start the semester off right by becoming familiar with the Student Academic Resource Center. This learning center is in Room 117 of Trevor Colbourn Hall and offers tutoring, supplemental instruction, academic workshops and more.
Online students can also access SARC resources through the SARC Online website.
UCF Downtown students can access the Learning Support Center on campus for tutoring in general education classes and the writing center. You can also check out materials, such as graphing and scientific calculators, here.
All Knight Study locations are 24-hour study centers on campus offering computer access, study rooms and areas, Wi-Fi, and free Scantrons and printing. The AKS in Ferrell Commons is open Monday through Friday during the fall. The location in Knights Plaza is open seven days a week during the fall.
Supplies and Printing
Using your valid UCF ID you can access free printing in the Student Government Association's Computer Lab in Room 209 of the Student Union, All Knight Study at Ferrell Commons and All Knight Study at Knights Plaza.
You can also use your UCF ID to get one free Scantron per day at the All Knight Study locations or at the SGA information desk in Room 214 of the Student Union. Free green books are also available, but you are limited to three per semester.
Technology
If you're having technical issues or don't own a computer, you can use Windows PCs, Macs or check out these devices for free at the John C. Hitt Library, Tech Commons I lab, Tech Commons II lab and Classroom Building I. Depending on the location you can also check out other items such as tablets and GoPros.
You can also access free software such as Microsoft Word, PowerPoint, Excel and more on any computer. UCF Apps is also available for Android and iOS devices. Just go to your device's app store and download the free Citrix Receiver app. For more information on how to install and use UCF Apps click here.
Textbooks
To find out how to save money on textbooks, read our guide here. Some options include using e-books, textbook lending and taking advantage of the on-campus bookstore's price-matching offer. You can also check Facebook groups, such as "Class of 2023," to find books other students are selling.