If you sit in traffic on your way to work every day, you likely can't wait for the future of transportation to arrive. Hollywood films have tantalized audiences with the efficiency and deceptive simplicity of autonomous vehicles. Though autonomous vehicles (AVs) have piqued the general public's interest, the road to mass adoption still has a few more bumps and turns to come.
To learn more, check out the infographic below created by the University of Central Florida's Engineering vertical.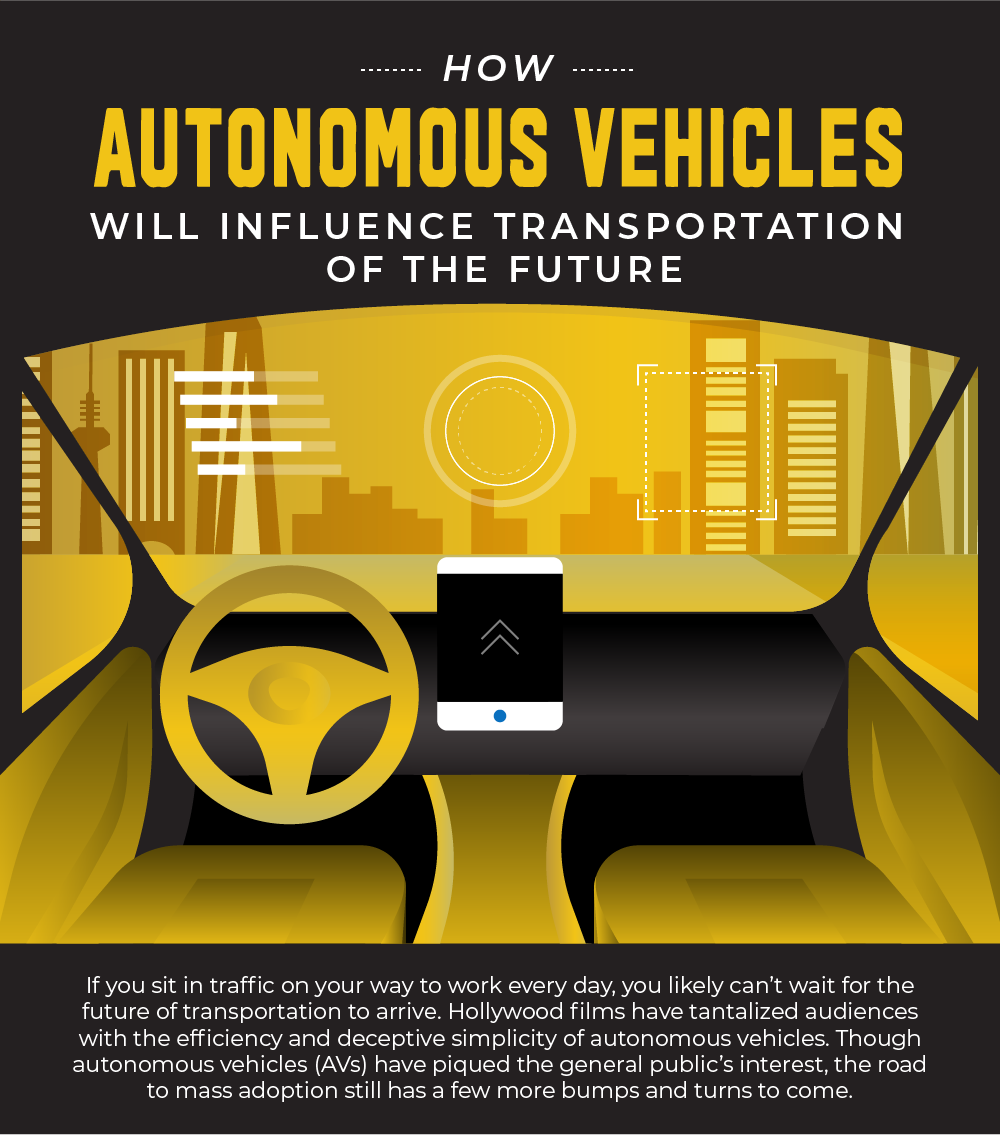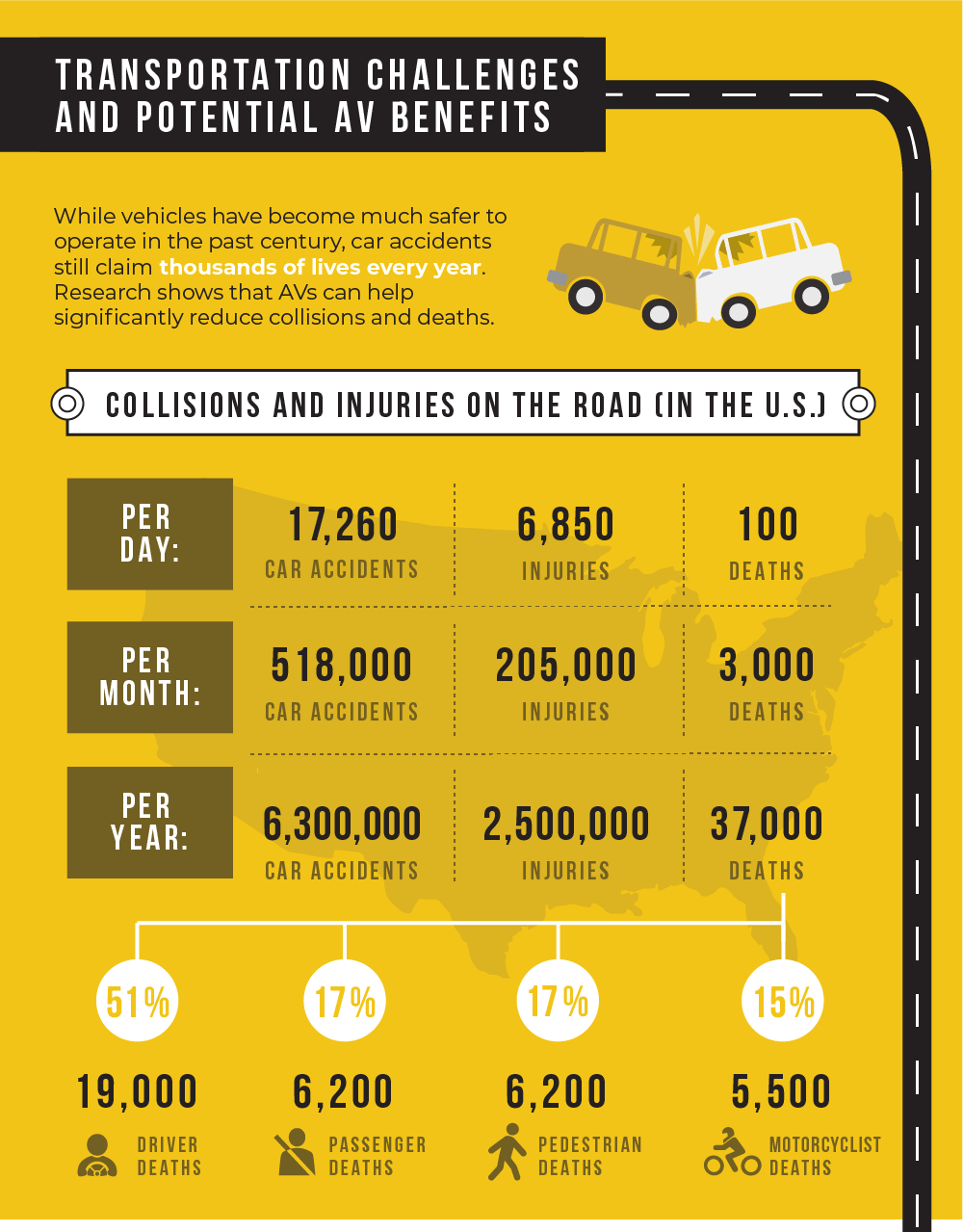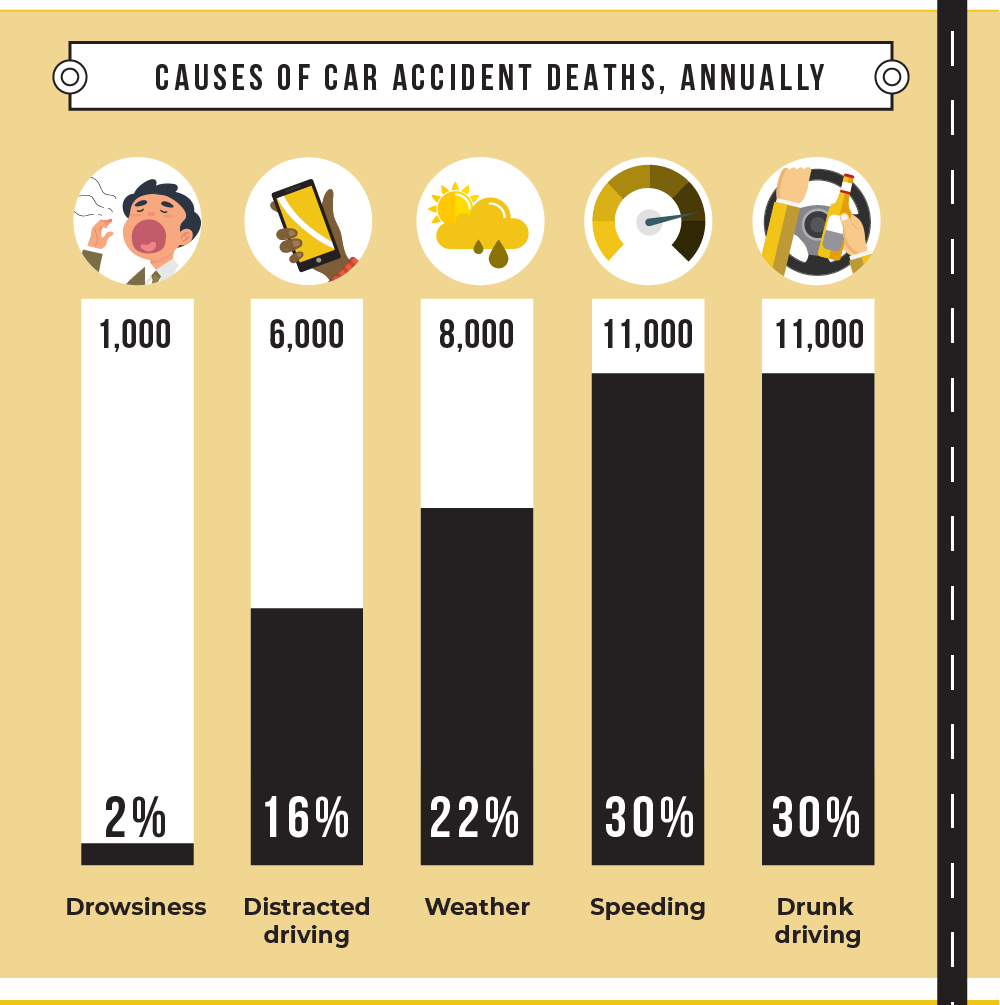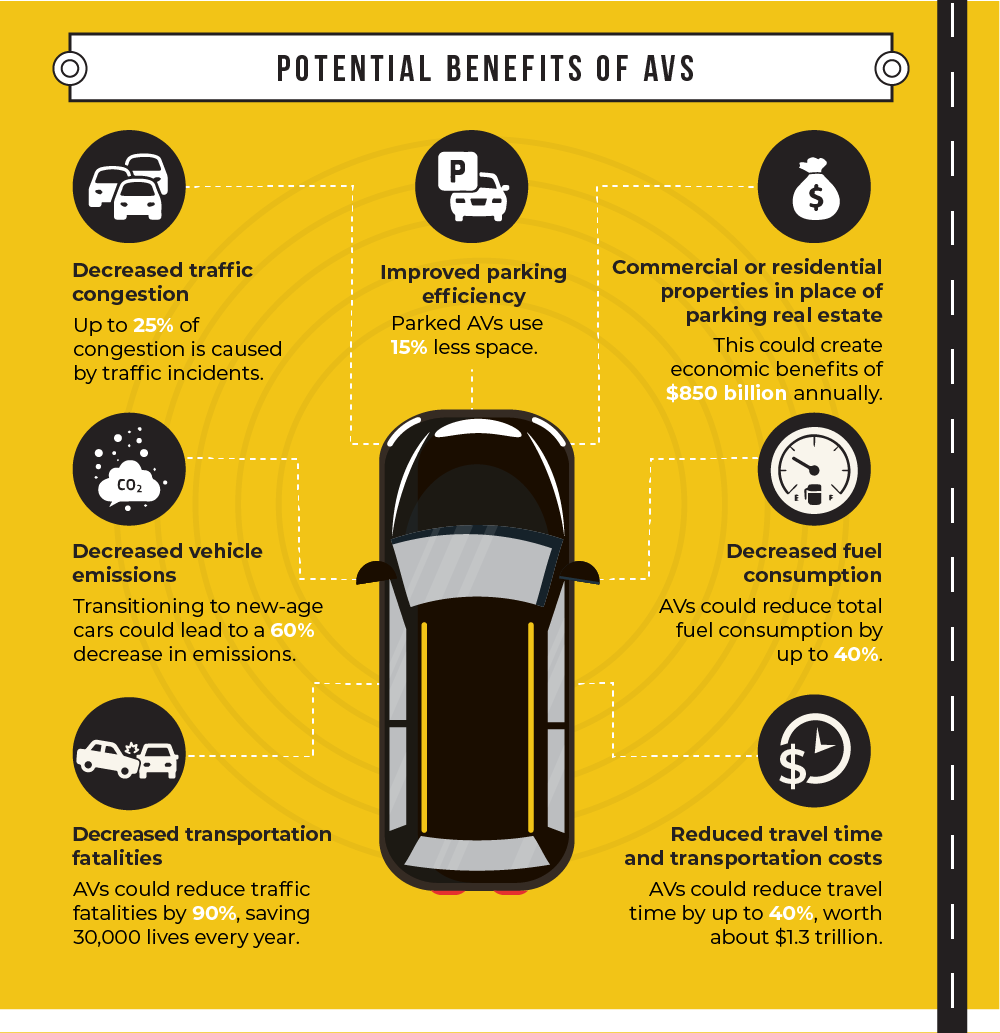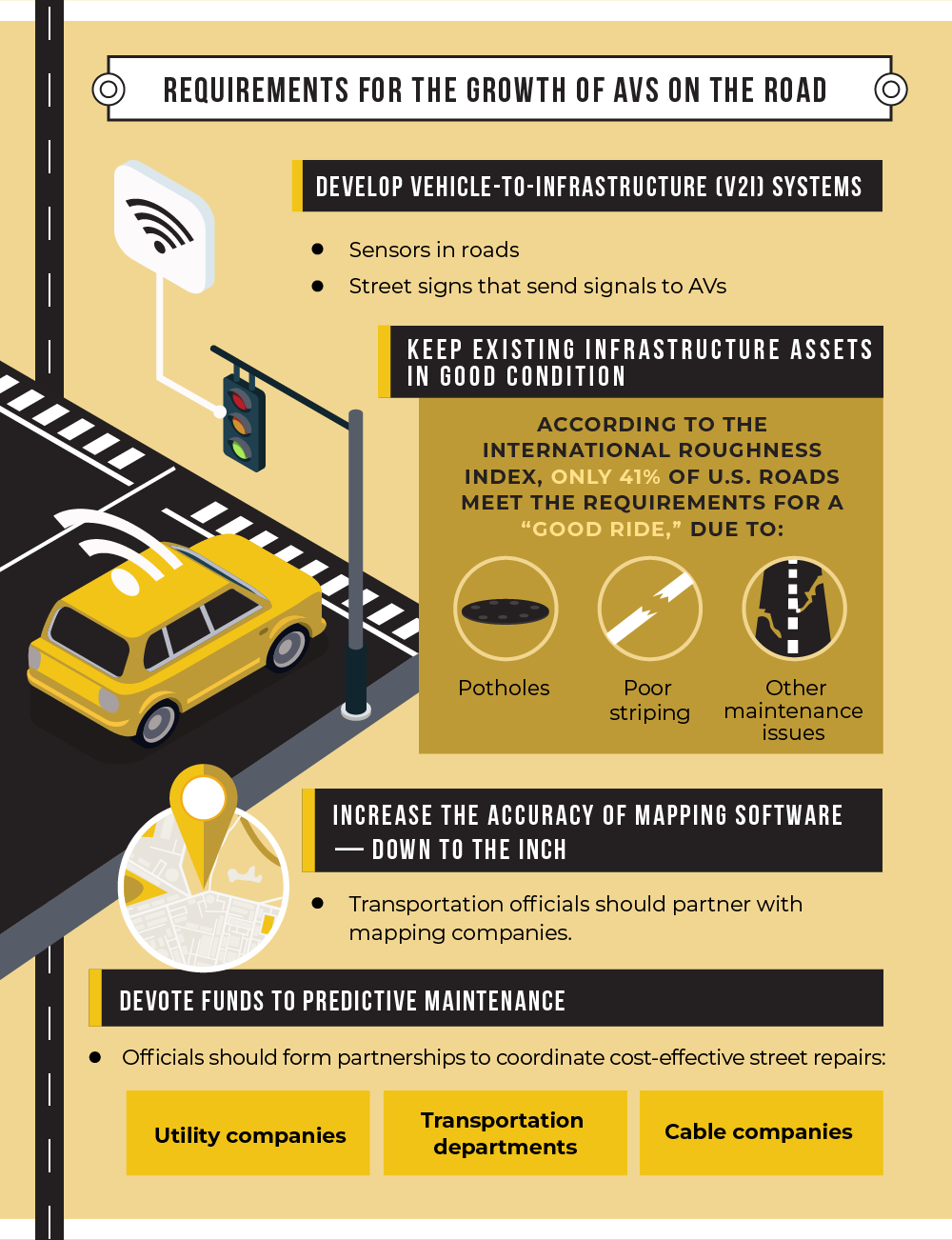 Transportation Challenges and Potential AV Benefits
While vehicles have become much safer to operate in the past century, car accidents still claim thousands of lives every year. Research shows that AVs can help significantly reduce collisions and deaths.
Collisions and Injuries on the Road (In the U.S.)
There are 6.3 million car accidents in the U.S. per year, leading to 2.5 million injuries and 37,000 deaths. This latter number breaks down to 3,000 deaths per month, and 100 deaths per day. 51% of these deaths are drivers, with the remaining deaths nearly attributed evenly to passengers, pedestrians and motorcyclists.
Drunk driving is responsible for 30% of car accident deaths annually, a percentage matched by speeding. Weather accounts for 22% of deaths, followed by distracted driving at 16% and drowsiness at 2%.
Potential Benefits of AVs
There are several key benefits that could stem from increased AV usage. Some of these involve transportation itself, such as decreased traffic congestion, decreased transportation fatalities and improved parking efficiency. Other benefits are environmental in nature, such as decreased vehicle emissions and fuel consumptions. There are also financial benefits, such as reduced travel time and transportation costs and additional commercial or residential properties in place of parking real estate, which could generate greater economic benefits.
The Road to Transportation of the Future
AVs' projected benefits have helped motivate companies to strive for greater levels of autonomy. Companies like Tesla, Audi and Waymo are pushing modern technologies to the limit and bringing the future of transportation closer to the present.
The 6 Levels of Autonomy
To get a grasp of transportation's future, it's important to break down autonomy's route through levels. Level 0 represents no automation, where vehicles are manually controlled and may have an emergency braking system. Driver assistance appears at Level 1, marked by features like cruise control with automated steering and accelerating and adaptive cruise control. At level 2, partial driving automation, advanced driver assistance systems (ADAS) become possible. Level 3 is achieved via conditional driving automation through features like environmental detection and a traffic jam pilot. At level 4, high driving automation, the vehicle intervenes if there is a system failure affecting automated driving features; while human interaction isn't required in most circumstances, manual override is allowed. Finally, full driving automation is achieved at level 5, where there's no steering wheels or braking/acceleration pedals and free from restrictions on where the vehicle can drive.
Requirements for the Growth of AVs On the Road
AV proliferation doesn't just rely on the cars. There are other infrastructure requirements. For instance, there needs to be a development in vehicle-to-infrastructure (V21) systems, such as sensors in roads and street signs that send signals to AVs. At the same time, it's important to keep existing infrastructure assets in good conditions. There's also a need to increase the accuracy of mapping software down to the inch. Finally, there needs to be a devotion of funds to predictive maintenance, which could be achieved through partnerships between officials and utility companies, transportation departments and cable companies.
Progress and Career Opportunities
Established companies and startups alike have joined the race to reach Level 5 autonomy. The road to complete autonomy has included setbacks, but the successes have been promising.
Companies Paving the Road
Amazon is one of the companies leading the charge toward AVs. The company is involved in a collaboration with Toyota on a multifunctional autonomous vehicle and invested in autonomous tech startup Aurora Innovation.
In 2014, the car company Tesla released autopilot, a semi-autonomous driver-assist technology. They also developed two tiers of self-driving capability: autopilot and the more advanced full self-driving tier.
Finally, the tech company Aptiv engaged in autonomous driving operations across several U.S. cities and Singapore. They also completed over 50,000 self-driving taxi rides in Las Vegas in collaboration with Lyft.
Critical Roles Supporting AV Developers
Industrial engineers can support AV development through their typical tasks, such as reviewing engineering specifications and process flows, implementing quality control procedures, and designing control systems to coordinate production planning. The role's median pay is $87,400 per year.
Electrical engineers can also play a big role in AV developmental support. They can do this by developing new ways to use electrical power, directing the manufacture, installation, and testing of electrical equipment, and collaborating with project managers on production. Their median pay is $99,070 per year.
Mechanical engineers can support AV development by using computer-aided design and analysis to design devices or subsystems that could help solve problems, develop and test prototypes, and oversee the manufacturing process. The role's median pay is $87,370 per year.
Bringing the Future Closer
AVs have become more than a dream for the future of transportation. They're a necessity. The potential benefits of mass adoption of AVs include saving thousands of lives – a cause worthy of perseverance and dedication.
Sources
Cars.com, Which Cars Have Self-Driving Features for 2019?
CB Insights, 40+ Corporations Working on Autonomous Vehicles
Forbes, "Essential Stats for Justifying and Comparing Self-Driving Cars to Humans at the Wheel"
ITSdigest, 10 Advantages of Autonomous Vehicles
McKinsey & Company, "A New Look at Autonomous-Vehicle Infrastructure"
Roadshow, Self-driving Cars: A Level-by-level Explainer of Autonomous Vehicles
Synopsys, The 6 Levels of Vehicle Autonomy Explained
U.S. Bureau of Labor Statistics, Electrical and Electronics Engineers
U.S. Bureau of Labor Statistics, Industrial Engineers