What is an Engineering Project Manager?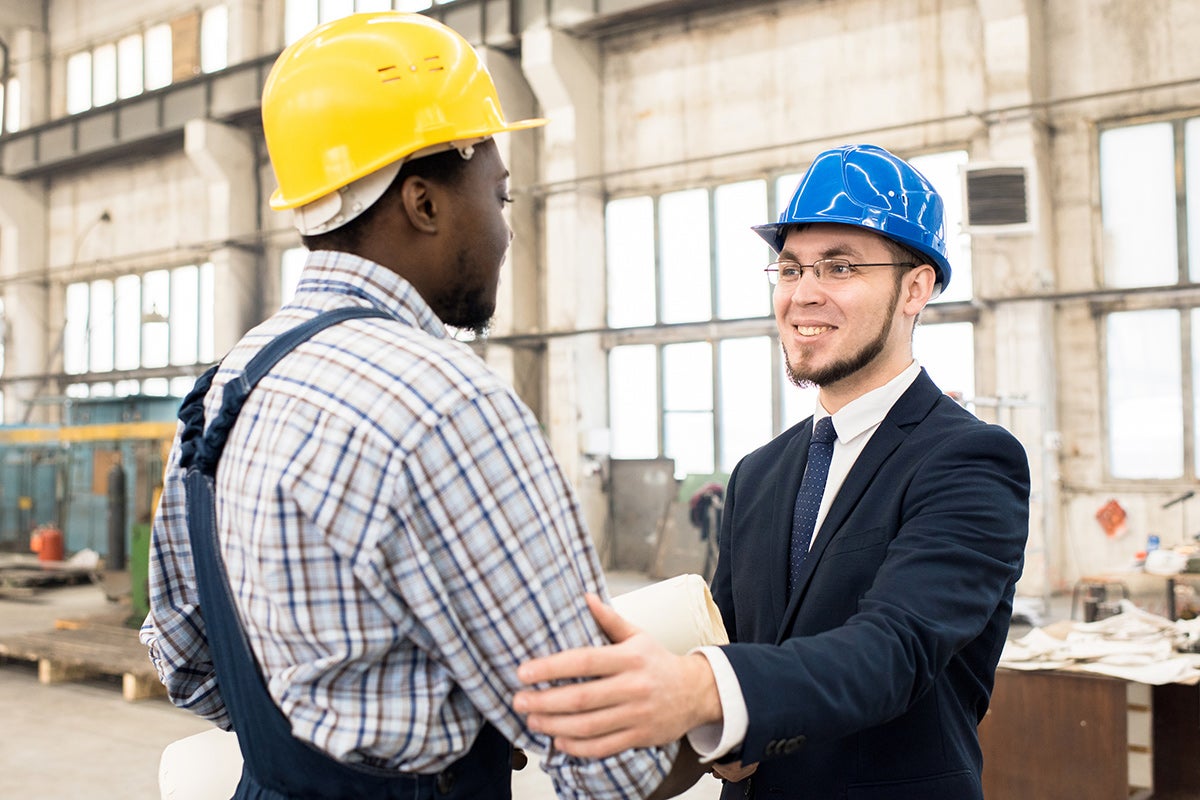 Designing a car, constructing a building, developing software and organizing disaster relief are all examples of complex projects. Each of these endeavors is considered to be a project by the Project Management Institute because they all create a new product, service or result. As technology advances and the economy grows, so does the demand for innovative projects.
So, if these are projects, then what is a project manager — particularly one specific to the field of engineering? To understand the role of a project manager, it's important to first outline the scope of project management.
Project Management Definition
In order for projects to successfully be completed, someone must manage the process of meeting organization requirements in a timely, cost-effective manner. The Project Management Institute defines project management as the application of tools, techniques, knowledge and skills to the activities within a project in order to fulfill requirements.
The Project Management Institute divides project management into five steps: initiating, planning, executing, monitoring and controlling, and closing. The knowledge that project managers must apply during the process falls into the following categories: integration, scope, time, cost, quality, procurement, human resources, communications, risk management and stakeholder management.
Engineering project managers keep the world moving by remaining focused on the goal of a unique project, the resources required to complete it, and the schedule of execution. Engineering project management is a specialty that has become recognized as a strategic organizational skill and a desirable career path, resulting in the development of training and education programs. "Project management is a critical skill for engineers at all levels as they will likely work on collaborative projects, no matter their job specialization or sector," said Stephenie Florczyk, assistant professor of materials science & engineering. "While many engineers may not work as a project manager, the project management skills are valuable for participating in team projects," said Dr. Florczyk.
Project Management Styles
Professionals may employ several methods to manage an engineering project. There is no one-size-fits-all method to manage projects, so it's up to the expertise, insight and know-how of the project manager to determine and apply the best method based on the unique requirements of the project.
Inc.com, an online business magazine, reports that there are four common project management styles, known as waterfall, agile, strategic and scrum. Engineering project managers might employ any of these styles based on the project, although traditional approaches, like the waterfall method, are quite common. Managers increasingly use adaptive management approaches, in which managers learn and adjust their strategy as a project evolves, to get the job done.
Discover the Waterfall Method
The waterfall method is linear, in which the project team must complete one task before it can advance to the next task. It is a common and traditional approach to project completion, wherein one step must be completed before moving on to another. In engineering, the waterfall method might consist of gathering requirements and documentation before moving on to a design phase, then approaching system testing before testing a product with users and returning to fix any issues. The last step would be handing over the deliverables to the client.
The waterfall method is ideal for projects that involve large teams. However, it requires constant communication within the team to ensure that every member is aware of the progress of tasks as they're completed to prevent tasks from slipping through the cracks or bottlenecking the process. The waterfall method is also ideal for projects that have strict structural requirements where the team must address any changes in the beginning stages of the project's life cycle. As the project progresses and team members complete tasks, it can become increasingly difficult to make changes. Therefore, the waterfall method is a great fit for projects with a clear, predetermined outcome and clients who are decisive regarding their final requirements from the very beginning of the project.
Explore the Agile Method
The agile method breaks a project down into incremental milestones throughout the life cycle of the project, rather than sequential tasks. These staggered deliverables make it easier for team members to incorporate changes throughout the project and helps project managers to readjust the project based on what they learn along the way. It also gives clients the freedom to provide feedback throughout the project, making this management style a great fit for clients who do not have a clear, rigid or predetermined requirement for the final outcome.
However, the agile method requires project managers to communicate the scope of the project and any boundaries to its completion early and often, because the work is continuously evolving. This may result in some parts of the project running over the allotted time or some aspects being less encompassing than originally planned. The agile method can be an excellent fit for clients with evolving budgets and timelines.
Learn About Strategic Project Management
Strategic project management requires a project manager to utilize big-picture thinking to connect various perspectives, such as that of a client, team member, and stakeholder. The first step in this project management method is typically an uncertainty analysis, which quantifies the unknown elements and facilitates the decision-making process. Managers can finalize the project strategy based on the findings of this analysis.
This method is ideal for clients on a retainer who are looking to evolve or redesign a product or process over time, but may not know where to start or what the final requirements will be. Project managers who understand the motivations of the client and are able to anticipate and adapt to challenges may find the strategic method a fit for their business operations.
Discover the Scrum Method
The scrum method can be effective for complicated projects that require a high level of communication among team members. The scrum method utilizes regular meetings for all involved team members, allowing them the opportunity to discuss the development and progress of a project. The project manager helps to prioritize tasks and keeps the team progressing in alignment with the project's timeline.
Every team member must commit to participating in these regular meetings and remaining accountable and communicative every step of the way for the scrum method to succeed. The scrum method is ideal for projects that involve many different moving parts and whose team members have defined roles and responsibilities.
Critical Skills for Successful Project Management
Effective project managers apply their knowledge, skills, tools and techniques to bring a project to fruition. These professionals are detail oriented and organized; they look at the big picture and aren't afraid of approaching new challenges. Engineering project managers play a critical role in developing new products, processes, or designs. Engineering project managers have a unique opportunity to make impactful changes and innovations within their organization.
The critical skills that an engineering project manager must have in order to be successful are problem solving, organization, management and planning.
Problem Solving
Challenges will inevitably occur at some point for nearly every project, so engineering project managers must be able to address these problems head-on and develop actionable solutions. For example, an engineering project manager may encounter inaccuracies with technical data that could potentially delay the progression or success of a project. The engineering project manager must address the root of these inaccuracies, and use problem-solving skills to figure out the best way to get the project back on track.
Organization
Project managers are responsible for overseeing and managing a variety of activities within a project, including production, operations, quality assurance and testing. Organization and attention to detail are critical competencies to the success of an engineering project manager. These professionals are responsible for setting schedules, preparing budgets, hiring staff, supervising the work of team members, and adhering to administrative procedures in order to keep a project on deadline and within budget.
Management
Engineering project managers spend considerable time managing and overseeing the activities of employees and team members across organizations. For example, a project that involves creating new software requires a project manager to work with multiple staff members across the finance, marketing, software development, and customer-support departments. Engineering project managers must have management and people skills to encourage collaboration and keep a project on track.
Planning
Strategic planning is a critical role for an engineering project manager since they are responsible for developing the overall concept for a project. For example, in order to design a new product, engineering project managers make detailed plans for development, which requires both big-picture and detailed-oriented thinking.
What Is a Project Manager's Career Outlook?
As technology continues to inspire innovation, industries are developing new products, services, and processes every year. Dynamic leaders such as project managers are at the forefront of these evolving industries and they impact how ideas become projects. Job titles for engineering project managers include portfolio managers, engineering managers, and construction managers.
Engineering Managers
Engineering managers use their expertise to plan, direct and coordinate the development of new products, designs, processes or offerings. Their responsibilities include leading the research and development stage of projects, creating detailed project plans, and proposing budgets, staffing and equipment needs. The BLS reports the median annual wage in 2018 for engineering managers was $140,760 and that a 6% growth rate in the position is projected as companies will add 9,900 new jobs from 2016 to 2026.
Construction Managers
Construction managers develop strategies and plans like engineering managers, but for construction projects. They coordinate and collaborate with architects, engineers, contractors, clients, suppliers, and team members to complete the building project. Their responsibilities also include preparing cost estimates and budgets, along with solving problems such as work delays or emergencies. Construction management is a growing field, with the BLS projecting 11% growth from 2016 to 2026. The median pay for construction managers in 2018 was $93,370, however actual salaries depend on a number of factors, such as years of experience, education level and geographic area.
Portfolio Managers
Portfolio managers, or financial managers, focus on the financial health of a business and are responsible for developing strategies and plans to meet the financial goals of an organization. Portfolio managers rely on data analysis to advise their organizations on financial decisions. Their responsibilities include reporting, monitoring and reviewing financial reports. According to the U.S. Bureau of Labor Statistics (BLS), employment opportunities for financial managers will grow 19% from 2016 to 2026. The median pay for portfolio managers was $127,990 in 2018, although salaries vary by industry, education level, region, and experience.
Learn More About Project Management in Engineering
What is a project manager? In the world of engineering, they are an organized leader who paves the way for innovation. Engineering project managers help improve the efficiency of projects from start to finish and shape the future of products and services.
If you wish to pursue a career in this dynamic field, an online project engineering certification from the University of Central Florida can help prepare you for success. A position as an engineering project manager is a great way participate in engineering projects that may lead to opportunities to move into a more influential position with the potential to create greater impact. Through UCF Online, your project engineer training will equip you with skills in analysis and management information systems and give you insight into the organizational and financial considerations of project engineering.
---
UCF's Online Engineering Degrees
---