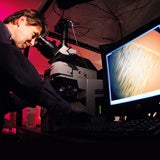 I think UCF is really coming into its own right now. It's amazing how fast it's growing!

It's really exciting to be here while the university is evolving so quickly.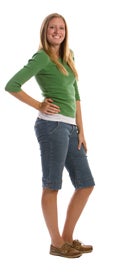 Hi, we're UCF. Nice to meet you.
The University of Central Florida is one of the most dynamic universities in the country. Offering 212 degree programs, it has become an academic and research leader in numerous fields, such as optics, modeling and simulation, engineering and computer science, business administration, education, science, hospitality management and digital media.
UCF's 1,415-acre main campus provides modern facilities, most of which have wireless connectivity, with 600 acres set aside for lakes, woods and an arboretum. UCF has 12 colleges, including the newly established College of Medicine. More than 60,000 students attend classes on UCF's main campus and its 9 regional campuses located throughout Central Florida. UCF has granted more than 250,000 degrees in its 45 years of offering classes.
The incoming freshman class for the academic year 2012-13 of 3,638 students continues UCF's rise in academics with an average SAT score of 1244 and a high school grade-point average of 3.9. The Burnett Honors College incoming class has an average SAT score of 1390 and a 4.3 grade-point average.
The UCF Libraries offer more than 2 million volumes, 29,000 periodical subscriptions and 23,500 electronic journals, most of which are available online.
UCF has an 149,000-square-foot Recreation and Wellness Center complete with a three-story climbing wall, an indoor track and fitness equipment. The Student Union has computer labs, study lounges, ballrooms and meeting rooms, popular eating establishments and a small shopping mall. A new Health Center is a full-service health clinic with on-site professionals, X-ray capabilities, dental services, a pharmacy, a medical laboratory and physical therapy services. The 10,000-seat CFE Arena and a 45,000-seat on-campus football stadium were opened in Fall 2007. Housing includes on-campus residence halls and affiliated apartments for more than 11,000 students.
UCF promotes a diverse and inclusive environment. UCF students come from 50 states and 145 countries. Study abroad programs allow UCF students to study and conduct research in 37 programs in 18 countries.
UCF researchers attract more than $100 million annually. Research contracts and grants come from federal, state and industry partners. Undergraduate Research offers different research programs, including paid research positions for students.
We know that's a lot of numbers—and we're happy to share them. What is most important about UCF, however, is our pioneering spirit, our commitment to making life better in the classroom and the community and our student-centered approach to everything we do.
So, welcome. Make yourself at home.